Love has no boundaries, and nothing shows how true love can be than this tear-jerking story of old couples. Jean and Brian are regular customers of their local store. Brian had started his lessons on how to do makeup that his wife Jean was doing. He had only one aim; learn how to do makeup that she was doing perfectly. Jean was just about to lose her eyesight which then necessitated the need for Brian to take over her duty as a makeup artist.
The employee who was responsible for posting the photo said:
"Meet Jean and Brian, the duo who are among our loyal customers. Brian checked in for another makeup lesson today, and he has been doing makeup on behalf of his wife who is losing her eyesight, such a wonderful couples who have rejoiced all their lives and lived it to the fullest."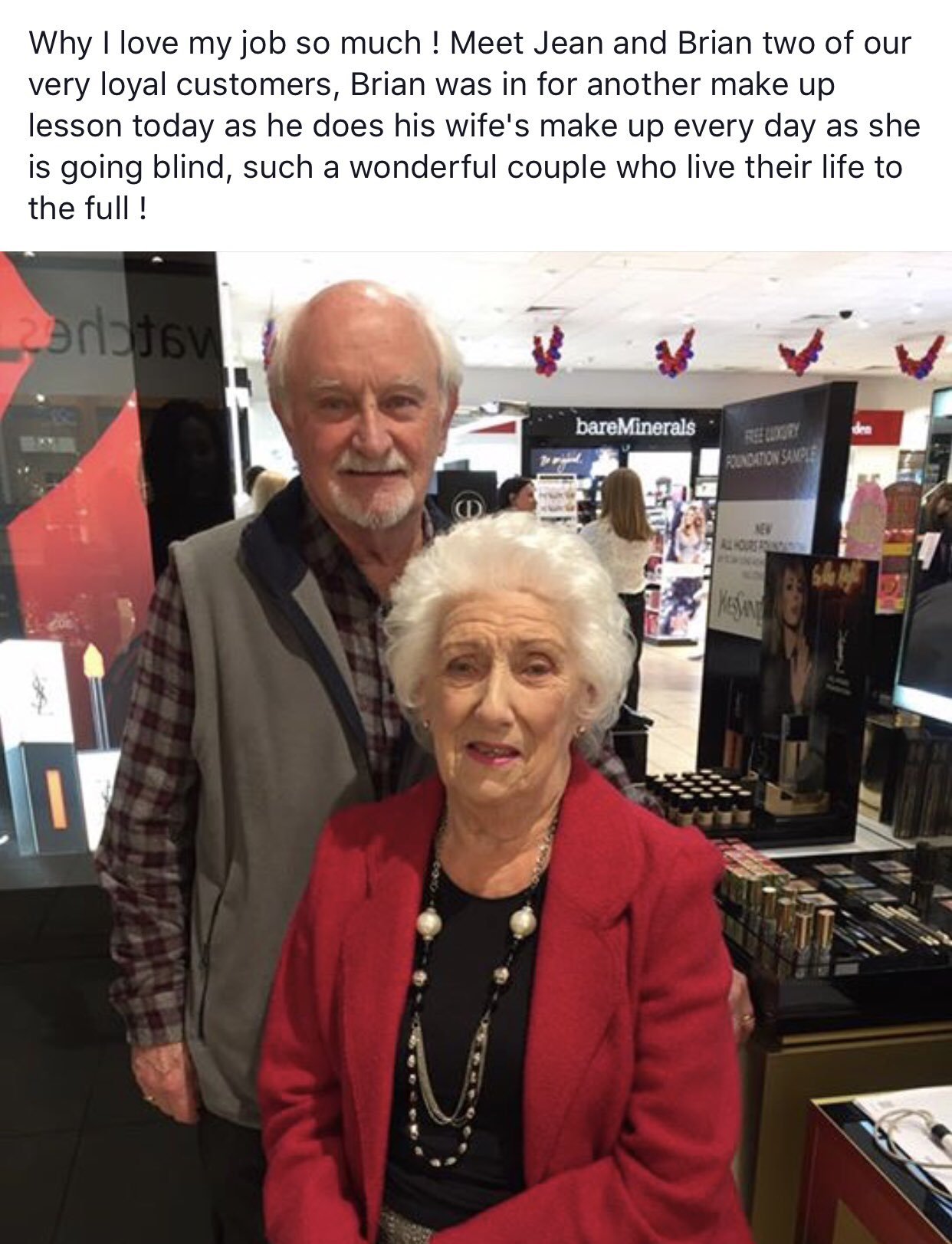 The photograph which was taken has gone viral on the internet attracting over 200,000 likes and 72,500 retweets on Twitter. Many more people tagged others who mean the world to them just to let them know that true love can last forever and endure all challenges that life throws to it. Whether young or old, love should never fade away. From the time people exchange vows at the altar to the time that they get to the last days of his life like Jean and Brian, love should remain unchanged.
People who had a chance to view this post left their comments. In fact, one of them cracked a serious joke saying: "I can't even receive a text back I love them dearly," while another person who also commented just said, "That warms my heart." Others just tagged their partners and added by writing that they better be there to help them with makeup in the years to come when they can no longer see. One user said, "If I become blind you better stay up to study, watch some tutorials on YouTube, and make sure that you keep the fire burning when I am unable."

There are still many people who said a lot of heartwarming statements that you can enjoy reading. Only samples are presented in this article just make you get the feeling that people had towards the old people who still adore their love.
Life can at times throw stones at us and make us feel low. We may lose the meaning of life altogether. However, we should never give up for love is always around us to cover up for the hardship that we may experience in life. A genuine love like the one Jean and Brian had can make us appreciate to be human beings who genuinely love with passion and honesty.

Everyone for sure deserves a love like the one that the old couples had. They have cherished it to their last days on earth. Even if Jean is struck by a challenge of blindness, she would still be happy in her heart knowing that Brian will always be there to help her in whatever thing that she would not handle without her eyesight.

Jean and Brian still show us that true love exists. It only requires that an individual love passionately and get into a relationship with the right one for them to appreciate the better side of true love. Many people who read their story online admired the kind of love that they have even up to the old age. The two are tied together by a strong love bond that only death will break. Hopefully, they will continue their love when they join the land of their ancestors.
Kindly leave us your comments. Let us know what you think about the true love that Jean and Mary share.
Don't forget to ▼LIKE US▼ for more inspirational stories!
Follow

@smalljoys_of_life
Enjoyed the article? Check out another interesting story below ▼
---

Share this story with your friends and family!
---