Pregnancy is one of the hardest things any woman could go through. It is very tough for most women. Carrying another human being in your tummy for 9 months is not a joke – women endure so much when pregnant; the daily morning sickness, loss of appetite, constant peeing, ridiculous weight loss or weight gain for some, swollen feet among other side effects that come along with pregnancy. Pregnancy takes a toll on your entire body.
But imagine what it would be like to go through nine months of pregnancy while your husband is away overseas for official duty or any other reason?
Veronica Phillips found herself in the same predicament, but she chose not to let the crazy pregnancy hormones and the absence of her husband get the best of her. She instead decided to make her pregnancy a bit more fun and enjoyable for both her and her husband Brandon who was in the Air Force. She booked a pregnancy photo shoot, and while that is a fairly normal thing for pregnant women to do these days, Veronica put her own personal spin on it to make it extra special. It turned out perfect that it moved her husband to tears.
With her husband serving in the military, she knew that she wanted to incorporate the military into her photos as a way of making him feel part of the whole shoot and the pregnancy, so she pulled out some of Brandon's gear to create some memorable and everlasting images. In the one below, she is wearing his uniform jacket along with dog tags that hang off her neck and land directly on her protruding belly.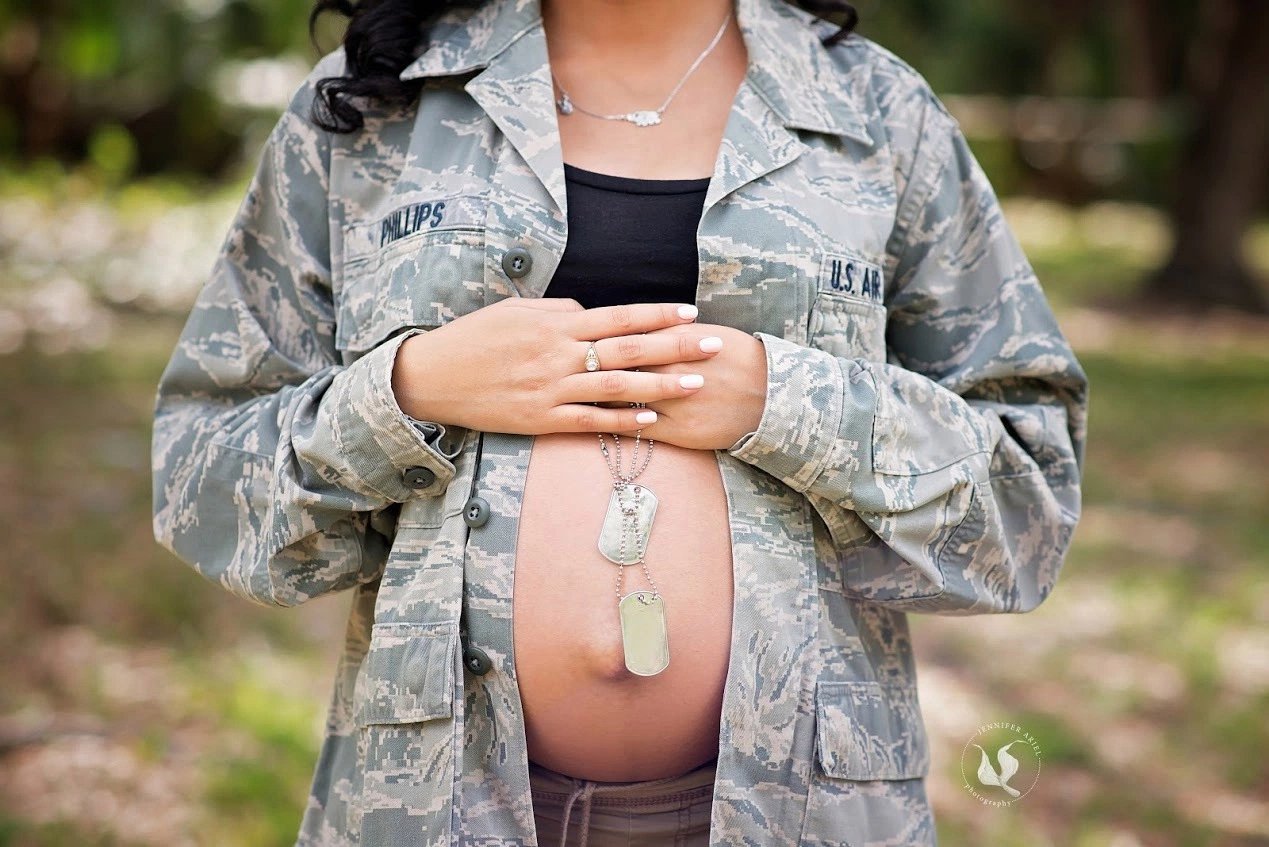 Veronica wanted to take it a step further and she asked her photographer, Jennifer McMahon, if she could include her husband in the photos. This being a first for McMahon, she said she would give it a try. She was very sad when she heard that Veronica had to go through the pregnancy alone with the added worry of having her husband away, so she worked hard to make Veronica's dreams come to life, she managed to artistically photoshop Brandon into the picture. The end result proved to be successful and McMahon managed to take an image of Brandon from a previous photo and add it to one of the new maternity photos.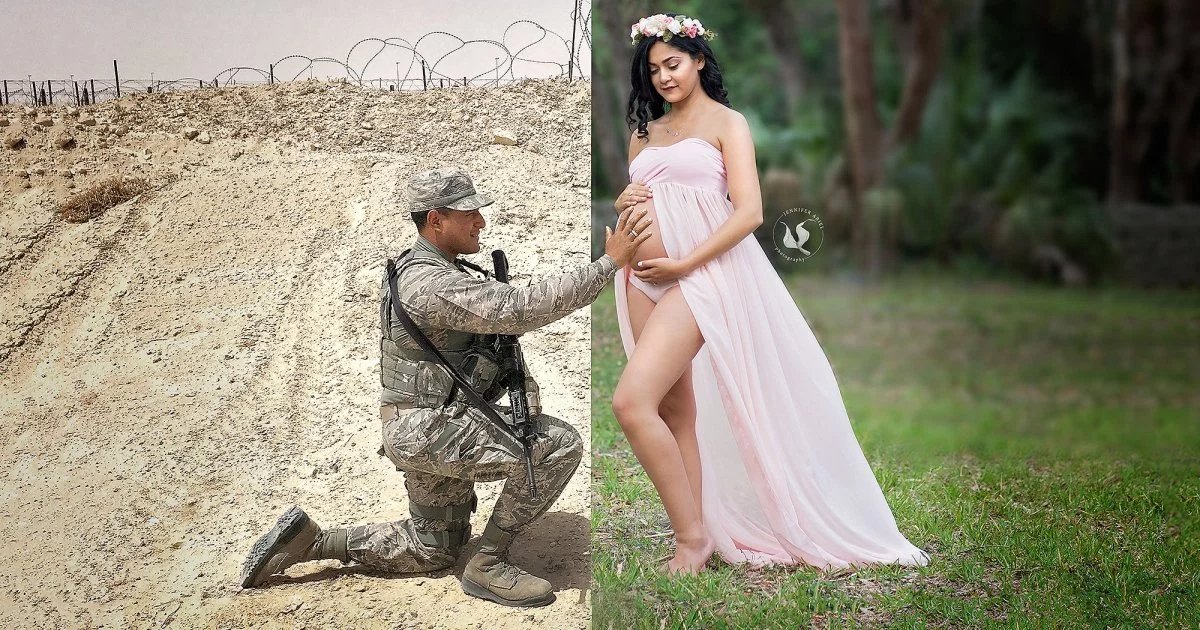 In the end, everything came out as expected. The photo shoot proved to be successful and McMahon managed to take an image of Brandon from a previous photo and add it to one of the new maternity photos and it ended up looking beautiful. In the photoshopped picture, Brandon can be seen kneeling down in his uniform with a hand resting on Veronica's pregnant belly. It's as if he is reaching across the world to touch her. It was a very beautiful picture. McMahon out did herself on this one – the talented photographer
worked her magic and created a unique and beautiful masterpiece for Veronica and her husband.
The unique photo has gone viral and has moved several people to tears…
McMahon was proud of her work and grateful to Veronica for giving her a chance to create something new that she had never done before.
"This photo has already reached over a million people and I am so honored that my photo could do that. I know it's not the even the best photo, but it's the story that it tells that means so much to people," said McMahon.
It is certainly a reminder of what military families go through. It's never easy being away from a spouse, but it is exceptionally hard when one is in the military. It is a constant sacrifice. Despite the fact that pregnancy is very tough, it's also the time any couple should be together most to enjoy every single step of it. Luckily for Brandon, he'll feel he was part of his wife's pregnancy, thanks to the talented photographer, McMahon.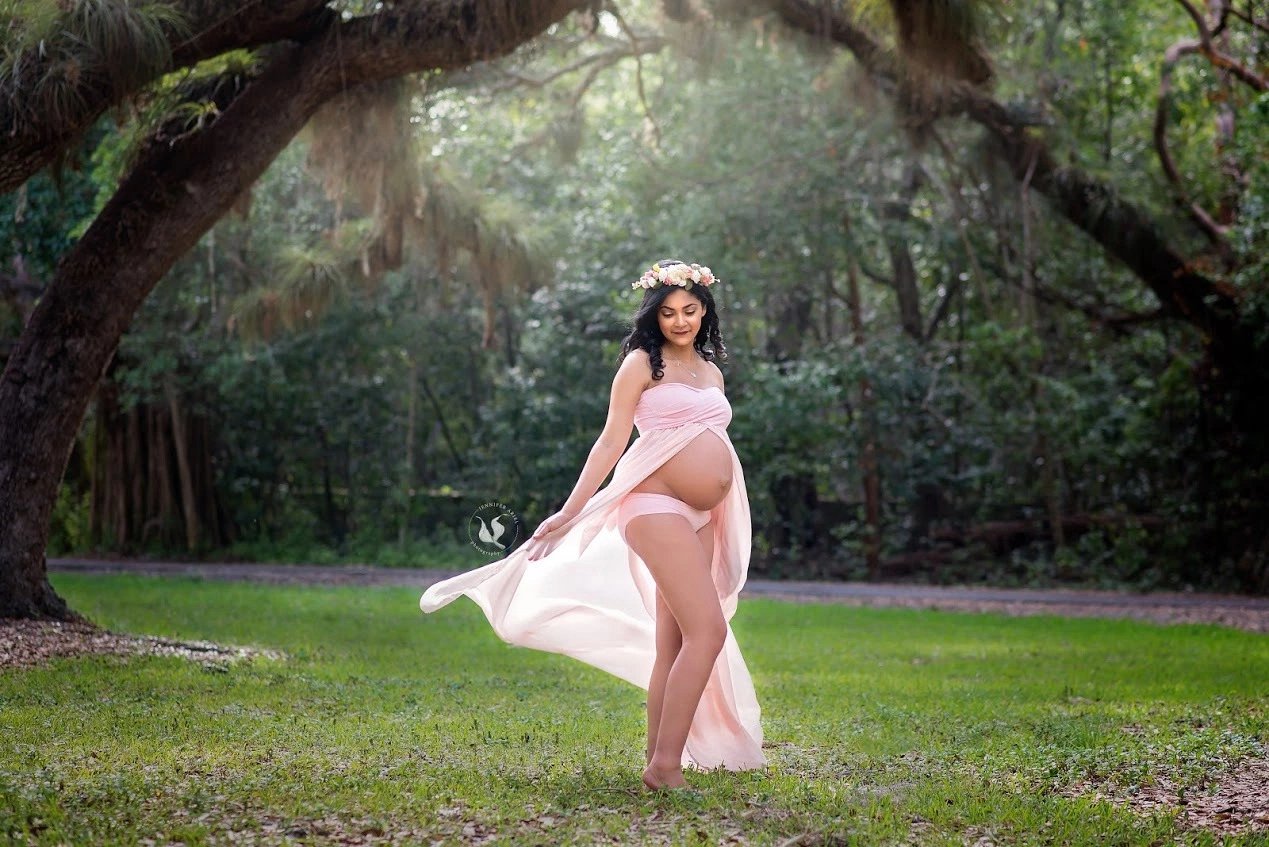 Commenters shared their praise for the photo and for Brandon's service…
"Come home safe and soon my brother in arms and thank you not only for your service but for your beautiful wife who chose to remind us all about the sacrifice you and so many others face."
"Don't need words the picture says it all, stunning, beautiful. It really hits home. What an amazing talent you have to put those two pics together."
This photographer will certainly get more business. Since the photo was shared on the internet, it has received only positive feedback.
"This perfectly represents their world as they know it and the message is clear and beautiful. Well done to the photographer."
We hope this story will greatly inspire a family out there that is going through the same situation as Veronica and Brandon. A toast to all the pregnant women out there who bring new life into this world and to the men in uniform who tirelessly serve our country.
Please SHARE this inspiring story with your friends and family on Facebook!
Don't forget to 🖤LIKE US🖤 on Facebook!
Please SHARE this with your friends and family.
---

Share this story with your friends and family!
---