Taking photos especially for a senior year can be one of the most stressful moments in a teen's life. Every teen wants to look their very best in front of the camera.
But, sometimes it becomes a daunting task to exude confidence especially if one is fighting an inside battle like self-image issues.
Well, there's this beautiful girl who did something really bold to restore her confidence.
Just read on and find out what she did to herself!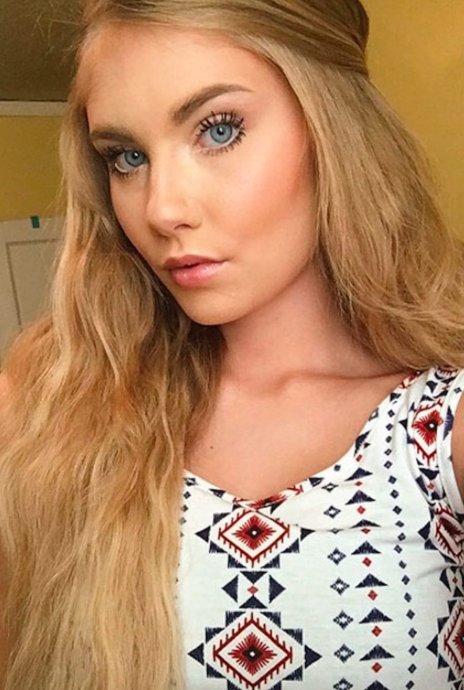 Meet Madisyn Babcock. She is a high school student from Arkansas. She once had a full head of flowing blonde hair until one day she didn't. Miss Madisyn was unfortunately diagnosed with Alopecia areata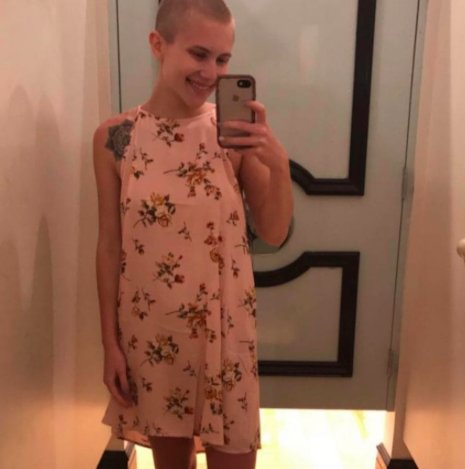 According to the National Alopecia Areata Foundation (NAAF), Alopecia areata is a relatively common autoimmune skin disease where a person's immune system attacks their hair follicles. This causes subsequent loss of hair from scalp, face and at times other parts of the body.
In the US it affects nearly 6.8 million people and its lifetime risk is at 2.1 percent.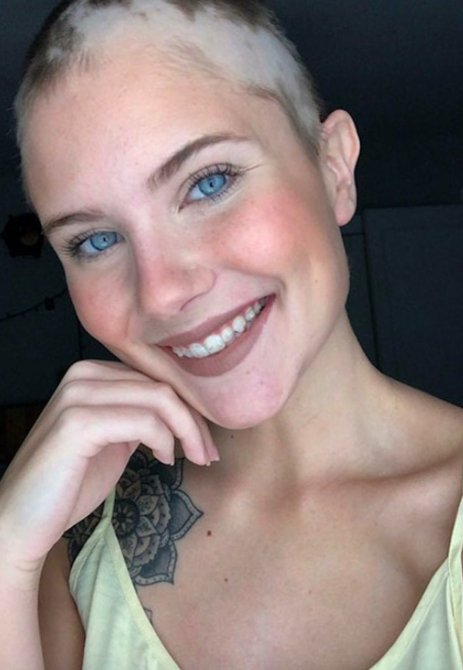 Well, this news hit Madisyn pretty hard but the girl did not let this tear her down. Her hair slowly fell down but with that also came to a renewed sense of confidence.
Madisyn however, devised ways of celebrating the beauty she felt inside to reflect outwards.

The young lady decided to capitalize on the upcoming senior photo shoot. She knew this would be the best opportunity to capture a moment that nobody would ever take from her.
She let her inner beauty to stand out in a very captivating photo shoot.

The ingenious Madisyn decide to team up with her mum who is a talented painter. The tag team would later work on a very artistic look. Where blonde locks had once been, was now an array of beautiful colors.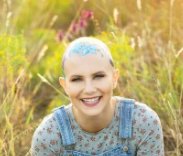 The mum, now using her daughter's scalp as canvas, drew beautiful colored flowers that varied from sunflowers to roses. The leaves and stalks crept the whole scalp like a vine. Now lay a masterpiece on Madison's head.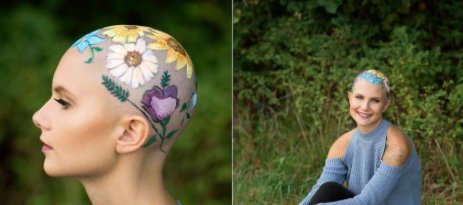 She explained that she had decided to raise awareness about her condition and also promote natural beauty. She added that her mum who be the perfect fit for the job for what she was hoping to accomplish.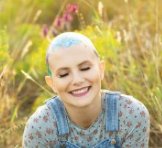 With everything in place, Madisyn decided to contact a photographer. She sorts the services of Chelsea Taylor, with whom she was acquainted as they had worked on some projects before. Chelsea was excited about the opportunity.

Chelsea felt great and honored to work on such an inspirational project. She divulged that Madisyn never lets her condition affect her self-confidence and perception of herself. She added that if anything, it made her braver, stronger and much more confident.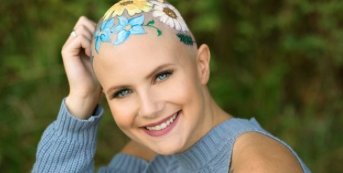 The photos came out looking absolutely pristine and gorgeous. Throughout the photos, you can see she never stopped smiling even for a minute. What is actually impressive is the fact that the smile on her face is genuine.
Madison's story is truly an inspiration and should only go to show that beauty is skin deep. What you feel is reflected outwards. You should not be afraid to show the world your inner beauty just because of how to look outside.
Refuse the insecurity because you are darn beautiful!
"Don't forget to LIKE US on Facebook!"
Follow

@smalljoys_of_life
Enjoyed the article? Check out another interesting story below ▼
---

Share this story with your friends and family!
---