Should I call it stage fright, forbia or just fear? Some don't have the guts to perform in front of large crowds. It's for this reason, if you see someone perform in front of a crowd, that guy deserves some respect.
Yes, we are sometimes afraid of performing anything on stage, but for Coffey Anderson, doing so is his absolute passion. Coffey Anderson is a country music singer, who enjoys performing his songs on stage. His courage and talent have taken him to higher places.
Experience is the best teacher! Coffey's experience in the music industry and his down-home style has made him one of the country music's super stars. He is in the hall of fame. Been cool and comfortable too on stage has had a positive impact in his career life.
Singing as easy as it might seem, needs some hard work, some practicing daily, and most of all creativity. From childhood to growing up, many have risen and many have fallen.  Coffey is a trend setter. In his recent performance, an unexpected guest joined him on stage, in which he  made the whole crowd go 'Koo-Koo!'
Sometimes, we think that, if an unexpected guest joins you on stage, he/she might ruin the whole set up and moments. This at times is true, but sometimes is just but a false judgment.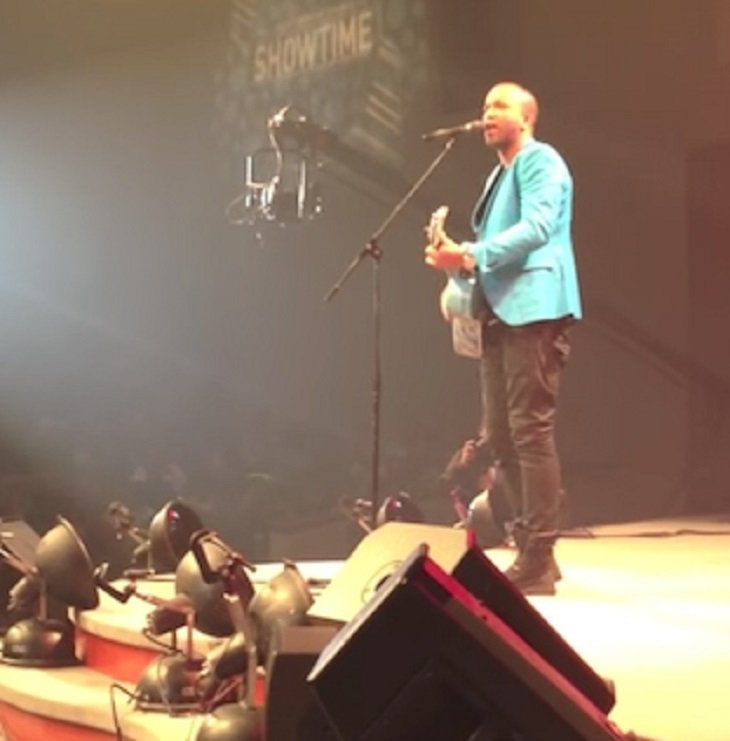 Happiness arose when someone had the camera on full mode, during the little cameo appearance. Coffey was performing  a song named "Brown-Eyed Girl". While he was in the middle of his rendition, a tiny and captivating Adonis ran onto the stage and positioned himself in between his father's legs.
Some ladies for sure mentioned this word, "aaww" meaning that it was so cute having dad and son partner up. It was like the dad was to sing, and the kid was to dance to the tunes.
Coffey, deep down his heart, he felt some strong love bond created in those few seconds. Seen the audience pumped up, is a clear indication of a good performance. This situation just gives you some motivation, even though you're probably a stage fright person.
Ethan, the 17-month-old boy, just wanted to have a moment on the spotlight with dad.  Dad was all smiles, and once Ethan felt that he was in a comfort zone, he did something superb that made the audience go nuts once again. They erupted with cheers!
Ethan seemed to have been 'sent from Heaven'. If you'd probably want such a scenario to occur to you, don't crush your dreams but build them up. If your passion is singing, do yourself the biggest favor by going out in public, and freestyle. You will gather courage, support from kind hearted people, and maybe get an offer from an experienced singer.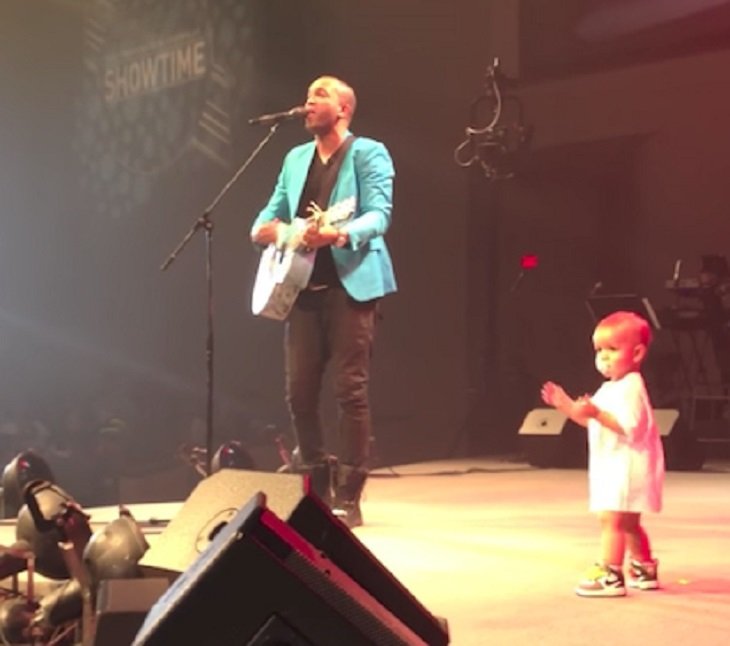 This angel turned to "his" crazy and wild fans and started to shake it off, along with daddy's music!  A hit song doesn't end off without a dance. Ethan ensured that the song had a dancer, of which he boogied along to the beats.
Dad(his superhero), enthusiastically sang and played the song, till the whole place was on "fire". He wore a gigantic smile, head all up, and the music been his armor.
What wouldn't dad be proud, as his biggest littlest fan rocks the stage with him? The crowd really adored the tiny wee one and that was a plus.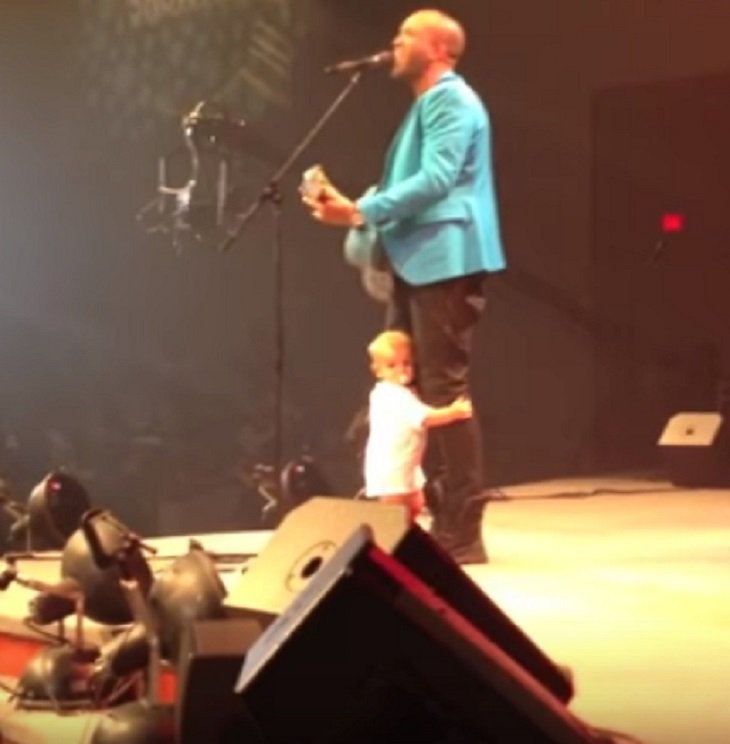 Coffey has been blessed with a killer country voice. We may as well say that he's one of the people," that have met God". He is blessed, not only as a singer but also as a dad.
How awesome is this enormous performance from Ethan? Does your family have those crazy, and fun members, who do a lot of funny things at home?
From Ethan's performance, it's clear that this type of dance session happens all the time in the Anderson family.  In the midst of the song, the little tyke ran back to Mom. He did this, just to have his mom hold his pacifier!
The performance was off the grill! The little angel's act and dad's awesome singing was rather hilarious, wasn't it?
Who knows, he might end up with an impressive voice like Dad's.
Ethan just needed some freedom in the world, so as to express his gratitude and appreciation to Dad's awesome tracks.  With no doubt, he'll emerge to be an awesome musician just like Daddy, even though he can't talk!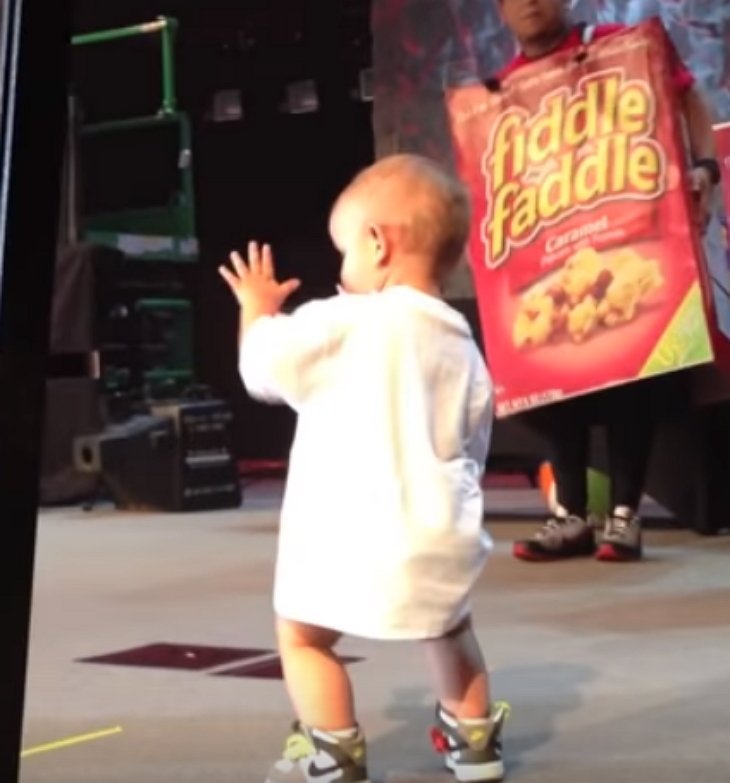 These two people, Coffey and Ethan, have shown us that we need to appreciate one another as a family. A happy family promotes a fantastic mood. Take a look at the father and son, having fun, and driving fans crazy.
Blood makes you related, but loyalty makes you family!
"Don't forget to LIKE US on Facebook!"
Please SHARE this with your friends and family.
---

Share this story with your friends and family!
---