LIKE OUR PAGE

Children with autism are very loving and full of joy and happiness. However, all of a sudden, their moods can change without warning and they become the exact opposite.
Parents to such children are constantly battling challenges that come along with raising an autistic child. Because of the unconditional love for their precious children, they try their best to take care of them the best way they can. It's also very hard to tell a person with autism by simply looking at them because you don't know what's going on in their body and mind.
It is easy to assume that one is perfectly normal and sane by just taking a glance at them, yet in actual sense, they may be autistic. People with the condition of autism easily get upset and out of control, having them calm down and come back to normal can be a very difficult to do.
This was the case with a 19-year-old Bubba, a young man from Tennessee. One minute he was a happy-go-lucky and cheerful individual but all of a sudden his moods changed rapidly, he got very agitated not even his mother Christy Richards could make him calm down.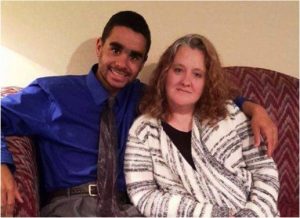 However, she knew what would calm him – the police officers.
Christy's son loves police officers, so she dialed 911 in the hope that an officer would come to their home to help her with her son Bubba. Fortunately, luck was on her side that day, a Deputy Sheriff by the names of Corey Loftis who works for the Bradley County Sheriff's Office showed up at their doorstep.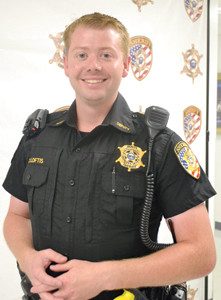 She thought he was going to simply talk to Bubba, but this was not the case. Deputy Loftis did something extra special, which surprised Christy, her son Bubba and others around the world since the Officer's actions went viral. The down to earth Deputy, fully dressed in his police uniform, got down on the ground in the middle of the driveway and started doing push-ups.
He did not stop at that, he also asked Bubba to join him.
This was because exercise is a great outlet for people with autism and a wonderful way to reduce anxiety.
The sheriff's office posted a photo on its Facebook page of Deputy Loftis and Bubba playing together with a caption that read "Dep. Corey Loftis was dispatched to a residence in reference to a boy with autism who was severely agitated. The mother knew 'Bubba' loved officers so she called for a deputy to respond to her house.
When Dep. Loftis showed up, he was able to calm 'Bubba' down and showed him how to channel his frustration by doing 'PUSH-UPS!'"
It was not so long after these beautiful moments that Bubba was back to his usual fun-loving and joyful self. Christy was amazed at how Deputy Corey's kind actions greatly affected his son. She was very touched and greatly inspired by him.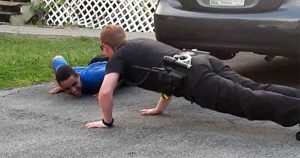 As a way of appreciating and thanking Deputy Corey, Christy, Bubba and Patti Nettles Arnold and her son Trever together with the North Georgia Autism Support Group teamed up to create goodie bags full of food and showered the Bradley County Sheriff's Office with gifts, a special plaque, mug plus other items for Deputy Loftis, and they had a small celebration together. This was done in recognition of Autism Awareness Week.
To add icing on the cake, the Basketball Cop who has a foundation sent Bubba a basketball goal and some basketballs. He had it sent to the county sheriff's department and no one other than Deputy Loftis delivered it to Bubba. Also, a line of police cars escorted a pickup truck carrying Bubba's new basketball goal to Bubba's house.
Bubba is known to almost everyone as a loving, generous and caring boy. He has a big heart for others and he is selfless. This is seen through his love for other people and animals. He usually takes food to a homeless man who camps near his home and he also once rescued an abandoned dog at a nearby gas station.
Bubba also has been collecting tabs toward a goal of 1 million tabs that he will then donate to the Ronald McDonald House Charities. He has collected tabs not just from people in his hometown and church, but from people across the country as well. Surprisingly, his autism condition has not limited him in any way from doing wonders and serving others.
With more people like Deputy Corey, Bubba will achieve and do more for the people of Tennessee and the world at large. What do you think about Deputy Corey? If you have anything in mind, please let us know in the comment section below!
Also, SHARE with your friends on Facebook to spread this wonderful story!
Don't forget to ▼LIKE US▼ on Facebook for more inspirational stories!
LIKE OUR PAGE