We all know wedding ceremonies are always filled with excitement and sometimes wonderful moments that last a lifetime in people's memories. A wedding ceremony is usually a day of unforgettable experiences for the couple and their closest relations alike, but this particular wedding day certainly had a unique and heartening surprise for the crowd.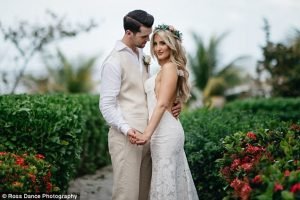 The bride Jess Nakrayko who is from Saskatoon, Canada got married to her lover and like every newlywed bride invited a bunch of her friends to celebrate with her at the joyous ceremony on her special day. Jess was especially excited to have her best friend with her throughout the ceremony. The friend, Jessica Kieley planned her entire bachelorette party and took care of other activities that would normally require the attention of the bride.  Naturally, Jessica and her boyfriend could not have missed the wedding day for anything.
The newlywed explained that she had her sister and her two best friends as her bridesmaids on the day.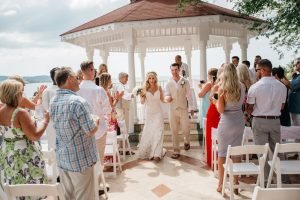 She said, "My two best friends and my sister were my bridesmaids that day, my sister resided in Australia, but Jessica totally put herself entire self into making my wedding a special event. She hosted a phenomenal shower and she planned a trip to Montreal to hold my bachelorette, and she was just too much in all the activities leading to my wedding."
The bride desperately wanted to do something to appreciate all the efforts her friend had put into making the wedding successful. Jessica and her boyfriend, Adam had just bought a house together in a nice vicinity in St John's, but she was said to be totally obsessed with planning Jess's wedding and thoughts of getting married herself did not by any length cross her mind.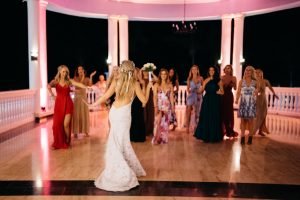 Before the wedding day, Jess had already heard from Adam about his plans to propose to Jessica on the wedding day, he planned the proposal would take place at the exotic and beautiful venue in Jamaica.

Jess recalled, "Adam told me about the proposal, he said, 'I don't want to steal anything away from you on your wedding day'."
The two then had a great idea for the proposal and it was immediately put into action and the preparation started then.
"My sister also suggested that 'what if I didn't throw the bouquet directly at her, but I just passed it to Jessica, and behind her, Adam will be waiting down on one knee?" she added. "Right then, we all just lost it."
At the wedding, everyone waited for Jess to throw the bouquet but only a handful of people including the groom for the day, the photographer and Adam knew what was about to happen.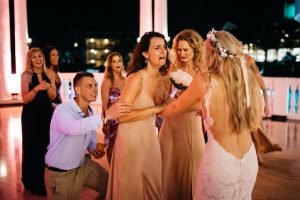 She continued, "My very last duty on the day was to toss the bouquet for the waiting ladies. No one suspected a thing among the crowd but my sister, my husband, James and the photographer knew. At that moment, we ensured the song playing changed to Bruno Mars' 'Marry Me' from 'Man I feel like a woman'. Then I started walking towards Jessica, as I walked to her, we locked eyes at one point, and I passed the bouquet directly to her, she started sobbing unbelievably, saying 'no, are you serious?'"

"Then I answered, 'Yes, just turn around!'"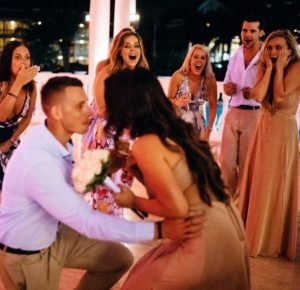 The heartwarming moment was captured by the photographer at the wedding, Ross Dance who was in on the plan.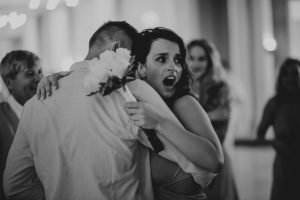 "I was totally looking forward it the whole day. Even as I walked down the aisle I was still so happy about it happening."
"The expression on her face said it all, the way she reacted alone was worth the trouble. I acted like, Ok, I'm done, you can have the day on from here out."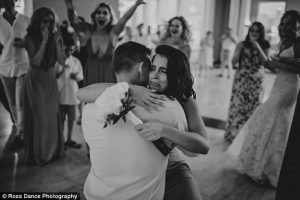 As expected, many people were surprised at everything that happened and how we planned it, but Jess made people understand that wedding day shouldn't just be a day for the celebration of love, but a day for sharing the love with others.
"I and my husband handled the situation the way the true concept of a wedding should be, it normally gets lost with people on that day. It's to get married to your best friend, while spending the rest of your lives together, celebrating and sharing the love with everyone close to you".

"My best friend's love story is just starting and it didn't cross my mind that I will be giving up my day for her. I already have love and I want the people around me to have and experience love too. I don't understand why people feel the need to be greedy with love".
Their story teaches everyone to understand love is not meant to be greedy, it pays to share the love with the people closest to you!
What a beautiful moment!
Please feel free to SHARE with your friends and family!!
Don't forget to LIKE us on our Facebook page!!
Please SHARE this with your friends and family.
---

Share this story with your friends and family!
---