Broke Mom on Last $20, Kids Pray to God for Miracle. Then Mom Finds Envelope on Doorstep In this fast paced world people have lost faith in miracles because they are too busy to observe such incidents. Miracles happen every day around us, we know this because God is all hearing and always at work. If you ever find yourself in despair, just look in the twinkling eyes of a child and you shall be reminded of the power of faith.

A child is full of hope and exhibits faith in ways that may appear naïve to others, but that's the way one is ought to believe in God.
Here I am going to share a recent event from the life of Sara to prove wrong all the naysayers. This incident is an eye opener for all those who have stopped believing in modern day miracles.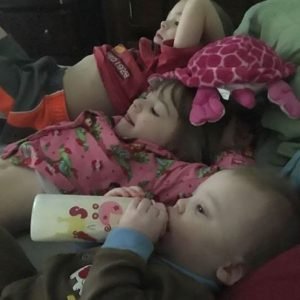 It was just an ordinary day like any other in the life of Sara Moore Gruver, a mother of three from Watkins Glen, New York, however something happened that reminded her of just how powerful a child's faith can be. The realization dawned on her that to experience miracles one has to exercise faith like little children.
Sara was short on funds as she entered the last week of the month, but her children were eager to get a treat from her. You know how stubborn children can get in order to get what they desire. It is very likely that you might have witnessed such situations playing out in the grocery stores, or even experienced it with your own kids.
Well, Sara only had $20 left on her to get her through to the next payday. Keeping this in mind she hardened herself and didn't budge to the demand of her children. Instead, she told them that they have plenty of food at home to choose from. This didn't console the children, and was unable to get the idea of ice cream of their minds.

The children could not bear the idea of going home without having ice cream. It was like the end of the world for them. She could hear their mournful sighs from behind her as they headed back home. Realizing that there was no convincing Mom on this, the children turned to someone whom they believed would never let them down. Sara heard the children seeking help from God for their ice creams, "God, we'd really love some ice cream. Is there any way you can give mommy some money so we can get some ice cream tonight? We know you can. Thank you."
She reacted by telling the children that they can ask for bigger things and added, "God isn't going to drop money on our door step so you can get ice cream. He's BUSY right now with natural disasters."
The oldest one among her children, Josh, was adamant that God always listens to him and that He is never busy for even the smallest things in life. Josh standing his ground told his mother, "Nope, God said you'll have plenty of money for ice cream and to give some to the natural disaster people." After correcting him for a couple of times, Sara saw no point in arguing with him.
It was at this moment and under these circumstances that the family reached home. As they unloaded and got to the front porch, they found themselves a mail waiting for them. To her amazement, it was an envelope containing a check of $123 to her name. Although, the money at hand was extra money returned to her from an overpayment of a student loan, the timing totally caught her by surprise. Sara was bewildered and confessed this by posting on Facebook, "The kids were not surprised. God was not surprised. They got ice cream. The Red Cross got a donation. And Mom remembered, yet again, what it means to have the faith of a child."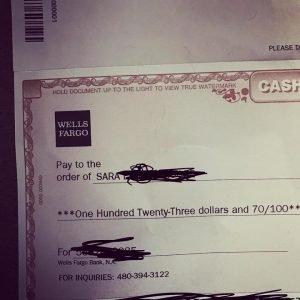 The story got viral, and since sharing this many people have tried to extend help to her. Sara is grateful for the kind responses but the paramedic has refused to accept any help as she explains, "We have good jobs and are financially set, just some weeks we pay extra on things and don't leave room in the budget for treats."
Sara takes pride in the fact that her story was able to put faith in the spotlight. From such incidents God reminds us from time to time that He is always there for us. Miracles happen for those who believe in it. You just have to take a leap of faith and you shall not be disappointed, because you can always count on God.

Sharing such experiences compel people to remap their concepts about faith. That is why we appreciate you to share stories that reinvigorate the trust in God, because you
can be sure that there is always someone out there who gets hope by listening to such events.
Don't forget to ▼LIKE US▼ on Facebook for more stories!
Please SHARE this with your friends and family.
---

Share this story with your friends and family!
---