LIKE OUR PAGE

Christopher Hope-Smith's son, Ollie, had been struggling with a bully from his school. Ollie is only 8-years-old but the bully has already begun to become a victim of a bully that just won't leave him alone. This bully has made himself out to be quite the character, always being so much better than Ollie at everything. The bully didn't relent even as Ollie's birthday was quickly approaching. The bully even set his sights on Ollie's birthday party, insisting that no one would go to his birthday party. It's certainly not the way that any child should feel with their birthday mere days away.
Christopher Hope-Smith noticed that his son was acting unusual as the birthday got closer and closer. When he asked his son if everything was alright, Ollie finally opened up that the bully had been tormenting about his birthday. Christopher didn't know what to do when he heard this. His son had gone to the teachers before and nothing was ever done about the bully. A child's birthday is a day every young child should look forward to, but because of this cruel bully, Ollie's mood only seemed to get worse as the day neared closer. So Christopher put out a request on Twitter if any celebrities could help his son out with a positive message. He had no idea if it would ever get any attention, but it was worth a shot.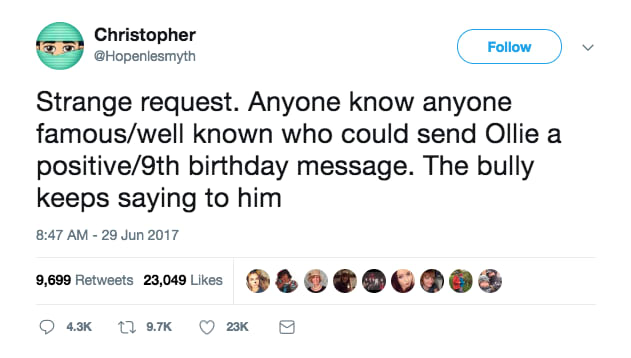 In follow up tweets, Christopher explained how the bully had been tormenting Ollie for a while and how the bully had been targeting the birthday in particular. Christopher didn't want anything other than some support.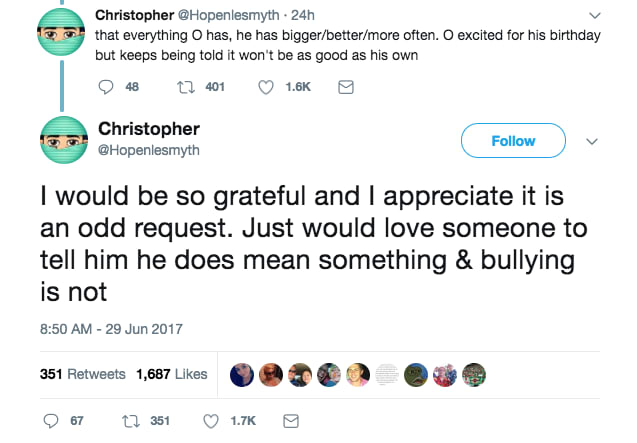 The plan worked. The internet worked together to make Christopher's tweet go viral. The tweet would get nearly 10,000 shares on Twitter alone. All across the world, the tweet was popping up in their Twitter feeds as the story of Ollie spread. The internet quickly joined together to send a strong message to Ollie and all other bullied children like him: that they are important and loved.
It wasn't just strangers on the internet either as there was also a large group of celebrities who also chipped in to help Ollie make his 9th birthday party very special. There was no way that bully could ever dream of beating it.
Ellen DeGeneres of The Ellen Show fame told Ollie to have an incredible birthday party and that his bully is wrong! She also reminded everyone to always be kind to one another. A message that always rings true no matter what.
Happy birthday, Ollie! Remember, anyone who tells you that you aren't good enough is just plain wrong. #BeKind

— Ellen DeGeneres (@TheEllenShow) June 30, 2017
Tim Peake, an astronaut who spent 6 months in space on the International Space Station was also quick to jump in the action! He also reminded Ollie that bullies are never as glamorous as they make themselves out to be.
Hope your 9th birthday is out of this world Ollie. Just remember – a bully is a person too scared to do the right thing. Aim high dude! 🚀

— Tim Peake (@astro_timpeake) June 29, 2017
Ollie and his family are from England, so they were mostly certainly shocked when the official Twitter account for England tweeted at them, even offering free tickets to a game!
Happy birthday, Ollie! 🎂

Fancy coming to see us in September? Let us know and we'll make it happen. 👍

— England (@England) June 29, 2017
Eric Keyes, an illustrator from The Simpsons drew him a sketch of Bart Simpson wishing Ollie a happy birthyday! A truly unique gift.
Happy Birthday Ollie from a guy on @TheSimpsons who's not quite famous but draws a kid who is =) I hope you have an AWESOME day! pic.twitter.com/f7itI4XdfW

— Eric Keyes (@monkeyes) June 29, 2017
Ollie even received a happy birthday greeting from none other than Russell Crowe!
Hey Ollie, heard it was your birthday. 9 years old eh? Congratulations, Happy Birthday !!

— Russell Crowe (@russellcrowe) June 29, 2017
TODAY Show's Dylan Dreyer also got in on the action with a birthday for Ollie as she posed along with Craig Melvin and Sheinelle Jones!
.@Hopenlesmyth Happy Birthday Ollie from Weekend @TODAYshow !! Hope it's the best birthday ever!! @SheinelleJones @craigmelvin pic.twitter.com/kHUbRJ1w28

— Dylan Dreyer (@DylanDreyerNBC) July 1, 2017
Sara Cox, a famous radio broadcaster in the UK, and Jake Humphrey, a famous television presenter, went above and beyond other celebrities and made videos of their message to Ollie!
Happy birthday Ollie! x x x 🎂 pic.twitter.com/fLtRAAhc57

— sara cox (@sarajcox) June 29, 2017
— Jake Humphrey (@mrjakehumphrey) June 29, 2017
There was such a massive outpouring of support that we couldn't possibly list them all here. From musical artists to smaller celebrities to basketball teams, Ollie was receiving birthday greetings from all over the globe.
Of course, Christopher and his wife were blown away by the immense response, not only from celebrities but from many other parents who have had to deal with their children being bullied.
Ollie's mother, Natalie, went on to Twitter to thank everyone for their support.
I am completely overwhelmed by everyones [sic] kind thoughts. You do not know what this means to me and will to Ollie when we show him. I have been battling with this matter for over a year and am only just now being listened to. It is heartbreaking listening to an 8 year old think that he is worthless and 'shouldn't be here.'
Parents who have to experience being powerless as their child is bullied in a school can certainly relate to Natalie's pain. Natalie continued on by saying:
I know that we are definately [sic] not the only ones in the world to be going through this but I just want to say, from the bottom of my heart 'Thank You' so much. You really don't know what this means.
Christopher, Ollie's father, also thanked everyone for their support in a follow up tweet.
His birthday is on the 5th July. I will save this and show him then. Thank you so much. I am very grateful to you.
We can only imagine that all these tweets from superstar celebrities helped Ollie feel good about himself once again and gave the bully a reason to rethink his life.
Please SHARE this story if you found it heartwarming to see the internet help out a young bullied boy!
LIKE OUR PAGE