LIKE OUR PAGE

A four-year-old boy, Jack was diagnosed with a brain tumor in January 2014 and died four months later on the first of April that same year.
When he passed away, his death left his family devastated, including three sisters and an identical twin brother.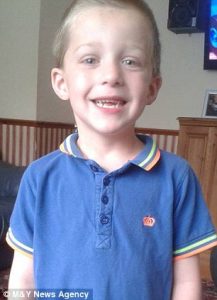 The mother, Marie Robinson, a 45-year-old woman who tragically lost her son to cancer got her wish fulfilled when she visited her son's grave on the anniversary of his death. Marie from Waterlooville, Hampshire decided to visit her son's grave to mark the anniversary of his death on April 1.
On getting to the place of burial, the aggrieved mother solemnly requested for some sign from her little boy. It was on a Saturday, the morning of the third year of his death.
While she sat at the grave site, her wish came to pass when she a robin landed on her foot on that fateful day. Robin is red-breasted birds associated with death in folklores as a creature of death symbolizing the afterlife.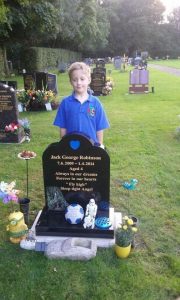 Marie posted a video online showing her beckoning the birds closer and the emotions in her voice noticeable.
"You're beautiful; you're so sweet,' she said to the robin. 'You've been looking after him'. She added, the little robin flew around her trying to land on around her and eventually on her feet.
In her video, she described how the bird hovered around before landing on the headstone, at which point she got her mobile phone out to film the bird and how it finally landed on her hand. Her expression was that of someone that witnessed a truly incredible event, with the robin pecking on her shoulder and staring directly into her eyes.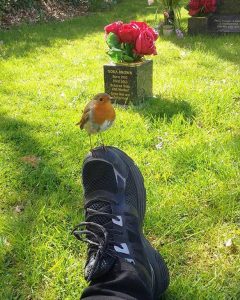 She couldn't believe what happened to her and was driven to tears as she was certain it was a sign from her son.
The video she posted online has had more than eight million views, and she has received support from all quarters of the internet, including Facebook. With many claiming the video drove them to tears, feeling the pains and the mesmerizing scenes that played out at Jack's grave.
One of the viewers said: "Absolutely beautiful… I'm mesmerized by what I just saw."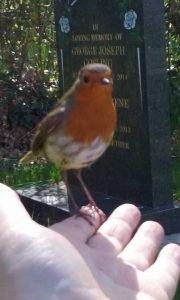 LIKE OUR PAGE