LIKE OUR PAGE

A police officer by the names of Jody Thompson began his day like any ordinary working day for him at the police station where he works.
Officer Jody Thompson who works in Poteau, Oklahoma on that fateful day, he got a call on his radio relating to a child abuse case.
Jody Thompson immediately decided to rush to the scene to see whether there was any assistance needed in regards to the call he got on his radio not knowing that he was about to meet a boy that would eventually turn into his son.
Having reached the scene where the call was made from, Jody was horrified and heartbroken when he discovered and found an eight-year-old boy scared and confused with his hands and feet tied with a rope.
The eight-year-old boy had been starved for a very long time and was entirely covered in bruises and all wet. The little boy had reportedly been submerged, put in a trash can and held in the shower room for a very long time.
"When I saw the boy in that house, I knew that he would end up with me for some reason I can't explain," Officer Jody Thompson said.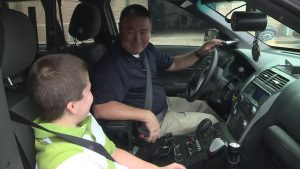 On that day he decided that he wouldn't leave this little boy's side but he would take him in and raise him as his own.
Officer Jody immediately rushed the boy to the nearest hospital as he wasn't in good shape and remained by his side while he recovered in ICU.
The 8-year-old boy was able to recover very well and eventually fully got back in shape.
Turn of events. 
Interestingly, the story takes an incredible turn when eventually after the boy properly healed and having been discharged from the hospital.
Officer Jody and his loving wife decided to adopt the little boy into their family and take care of him as their own.
Incredible!
The boy who was once homeless and known as John became part of the Thompson family and is now referred to as John Thompson. Shockingly officer Jody and his wife learned that little Johns biological mother had given birth to a baby girl while in jail and this kept them wondering whether they should go ahead and also adopt the little girl as well.
Today, John Thompson is a straight-A student and is part of a gifted program at the school where he is now getting all the love and care he deserves.
He finally got a decent family to take him on and he is happy with them.
All this was because of the generosity of Mr. and Mrs. Thompson who opened not only their hearts but home too for John, a homeless little boy.
The world needs more people like these. Imagine the numbers of homeless and lost children on the streets, sleeping in the cold daily and longing for a mother or father's love.
Let me and you be the first to emulate the kindness of Mr. and Mrs. Thompson. What would you say to the Thompson family? Please tell us in the comment section below.
And SHARE with your friends and family if you think what the Thompsons did was wonderful!
Don't forget to ▼LIKE US▼ on Facebook for more wonderful stories!
LIKE OUR PAGE