It is indeed true that for most adults experiencing discomfort, it is often difficult to describe how one feels, let alone the exact symptoms to a physician. Now, imagine being less than a year old and ailing seriously without being able to communicate just where and how much it hurts! This is why I gladly doff my hat to all pediatricians!
For a father in Carlinville, Illinois, such was the unsettling reality a moment ago. Justin Frankford and his wife were elated to bring home their newborn daughter, Braylee Frankford and were excitedly looking forward to enjoying life with the new addition to their young family. They were anticipating months of sweet cooing and even more exciting days of teetering footsteps before their toddler could finally walk on her own.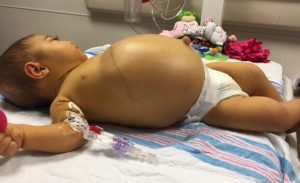 However, a sad revelation was to mar their joy. Early on, medical scans informed doctors that the baby girl was born without the gall bladder. The celebrations were immediately cut short as a worry of the unknown set in.
Frankly, hers was a rare condition. And to further complicate the puzzle, no standard medical solution was in the books. It would, therefore, take a great deal of creativity and adroit experimentation for the little girl's doctors to come up with a determinate answer.
Now, a gall bladder is a pear-shaped organ that stores bile juices produced from the liver until the body needs it for the digestion of fats and oils in the first portion of small intestines. It is normally green in color and contains bitter alkaline salts that emulsify fat globules. Clearly then, the organ is indispensable not just for Braylee, but for everyone.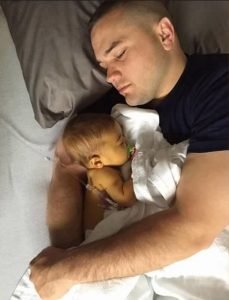 For many, assenting to surgery is a very difficult decision to take and for any parent, merely hearing that their infant needs surgery is a horrifying experience. But the Frankfords had been served a non-choice. It was the only way they could save Braylee – or so they thought!
Braylee soon underwent surgery to connect her intestines directly to her liver to help channel the bile. For little Braylee and her distraught parents, this was supposed to be the end of the nightmare – but it was not to be so!
Things did not go as planned. Instead of improving, Braylee's fragile systems started deteriorating and her health sharply took a turn for the worse. She was rushed to St. Louis Children's Hospital where further tests were performed. It was revealed that what the long-suffering baby needed was a liver transplant. But of what good is a diagnosis when there is no fix?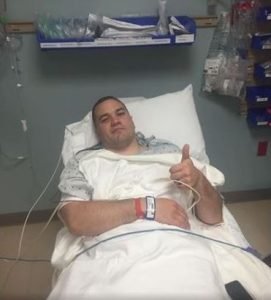 Much to Justin's despair, even though his little girl's life depended on it, a liver was not available for a successful transplant. And time was running out before the transplant became just another futile solution. Surely, there had to be a better option!
According to the doctors, the only other alternative necessitated the involvement of Braylee's parents as possible donors. Their systems had to match with their daughter's for the procedure to succeed.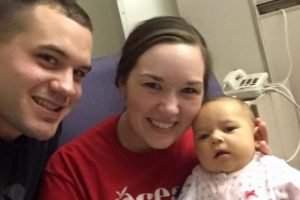 Thankfully, Justin was a match and without sparing any moment, he was ready to donate a part of his liver so that his daughter could have a chance at life. Such is the love that serves to show humanity's goodness in a father's devotion to his helpless baby.
But again, the unthinkable happened as soon Justin was minutes away from entering the operating room. The surprise this time was far more pleasant than the last. And it definitely was welcome!
It emerges that a cadaveric liver had just become available and it could be Braylee's if she still needed one. Certainly, she did! The doctors got to work in earnest without the added health ramifications for the father. Another plus to providence!
Furthermore, the financial donations and love offerings from friends, well-wishers and outright strangers alike via the family's Go Fund Me account came in handy in as far as clearing medical bills was concerned.
Here is the must watch video sharing Braylee's heartwarming story!
Since the cadaveric liver belonged to a now deceased adult, doctors were able to divide it and use it for baby Braylee and another child also awaiting such a life-saving donation. It was a win-win situation for two little lives for sure.
The operation turned out just fine and Braylee started on her quick journey to full health. She is now a bubbly girl ready to take on the world. After all, hasn't she just overcome a Herculean task?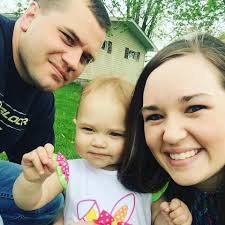 While parents, as natural primary caregivers, never truly stop being concerned for their children no matter how big they get, those initial years after birth are perhaps the most trying times to navigate through. This is especially true because these young ones are evidently not the best at communicating appropriately and they also still have weak immune systems to fend off disease.
Credits to modern medicine and the wonders that it now affords humans around the world, let alone the noble spirit that moves impersonal individuals to donate their organs to save lives of others just like little Braylee's. Owing to that single decision, many unmentioned Braylees have been given a new lease on life.
As for the Frankfords, cheers to the happy life that you so deserve and may little Braylee grow to have a heart that desires to make the world a better place than she found it.
If you have been moved by this story, please feel free to express yourself in the COMMENTS section below and do not forget to SHARE!
Don't forget to 🖤LIKE🖤 US on Facebook!
Please SHARE this with your friends and family.
---

Share this story with your friends and family!
---