Have you ever come across something that takes you by awe? You never know when that can happen because there is no special time for it. Something similar happened with Matt, and it had a total grasp on him. The moment even pushed Matt to take measures which otherwise he would have avoided for the sake of his own health.
One fine morning, Matt was driving along a road when his eyes met something strange on the side of it. At first, he thought of it to be an object, but on a closer look, he noticed that the object was crawling. His first instinct was to ignore whatever it was and just drive by, but he couldn't resist the appeal of it and pulled over to get to the bottom of it. To his surprise, he saw a beautiful little lady kitten.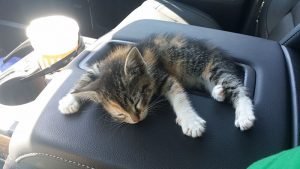 He was pleased with himself that he stopped, as he now had a stunning creature of nature in front of him. It was a baby kitten lost in the wilderness.  Unknowing of its surroundings, not having any idea of what was happening; the kitten was crawling and trying to find a way for herself.

"I found this little lady in the middle of a busy street so I stopped to pick her up. She was crawling in the street in an area only surrounded by woods so she was either born there and the mother didn't get to transfer the whole litter or someone just dumped her," wrote Matt.
Knowing that he is allergic to kittens, even then he couldn't turn his eyes from the situation and decided to take her with him. It was just one of those situations where your heart tells you to go for something while your brain tells not to. Given the beauty of the lady kitten, Matt couldn't hold himself back and got her into the trunk.
First thing first, the next day Matt took her to a vet whom he could trust with such a precious task. The vet got rid of all the fleas from her body and thoroughly checked for any injury. Once Matt was confident that the baby kitten is in good shape, he decided to go on a drive with her, but she had something else on her mind. As soon as they got in the trunk, the little creature fell asleep. Matt wanted to see the baby kitten move but he didn't have the heart to wake her up. Nevertheless, the sight of the sweet pea sleeping was good enough for Matt, and for that reason, he stayed in the truck for another hour until she woke up.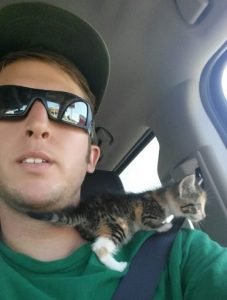 Matt connected with the cat in such a way that he recalls every moment spent with her as a cherished. If it was not for his allergy, the thought of parting from his sweet baby would have never crossed his mind. They say the beauty lies in the eyes of the beholder, so was the case in this relationship. For instance, Matt even enjoyed the loud snores of the baby kitten and laughed about it saying that he had found a cat whose snores sound like that of a loud train. However, every good thing has to come to an end. In this case that happened because of a problem Matt had.

"I'm stupid allergic so I had to find her a home. I actually interviewed two people who wanted her and told the first person not because the living situation didn't sound like it would be good for he," said Matt.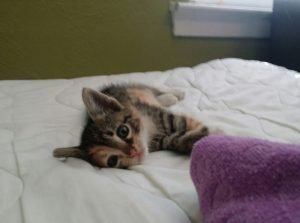 You can imagine how connected Matt had become to the baby kitten which he had come across by surprise, that too alongside a road. After interviewing a couple of people, Matt eventually had to let her go, but only after he found a perfect and loving home for her which met his satisfaction. Moreover, you will be pleased to know that the family who adopted her also has another rescue cat with them, and both the cats got along very well.

Morals and human values are practiced in such decisive moments. By stopping to help the little baby kitten, Matt not only added value to his life but also to the life of the family who later adopted her. Had he not stopped, had his indifference got a better of him, we would have let a precious life to waste. Now because of Matt's act of love, he has a wonderful memory to hold on to and the baby kitten has found a safe home forever.
If you think Matt did the right thing, and it was worth saving the adorable kitten's life then you should definitely spread this post by sharing it. This can act as an inspiration, which in turn can make the world a better place for someone.
Don't forget to ▼LIKE US▼ on Facebook for more stories!
Please SHARE this with your friends and family.
---

Share this story with your friends and family!
---