Everyone agrees drunk driving is not an act that should be encouraged; it is both dangerous for the driver and every other road user. Under the influence of alcohol, it is hard to tell what might happen to the person and anyone they come across.
Millions have been killed in accidents in accidents related to drunk driving, many people are aware of the consequences of drinking and driving, but it cannot be emphasized enough for everyone.
Many people have admitted to driving under the influence of alcohol at one point in their lives. In a 2012 poll, statistics from the poll gathered that about 29.1 million people admitted to driving under the influence of alcohol. It was estimated at one point that 1 in every ten arrests made in the United State is related to a case of driving under influence (DUI).
An estimate of 275,000 people was recorded to be injured in alcohol-related road accidents in as at 2003, while an estimate of the fatalities by the National Highway Traffic Safety Administration concluded that 17,941 people died as a result of alcohol related incident. With this high number of casualties and punishment made available by the law for offenders and repeated offenders, many feel it necessary to set aside their better judgment to avoid driving when they know they might be a danger to themselves and other road users. Huge fines and a 72 hour jail time for a first time offender is the penalty for DUIs in the state of Ohio, this is termed an alcohol education 72-hour program.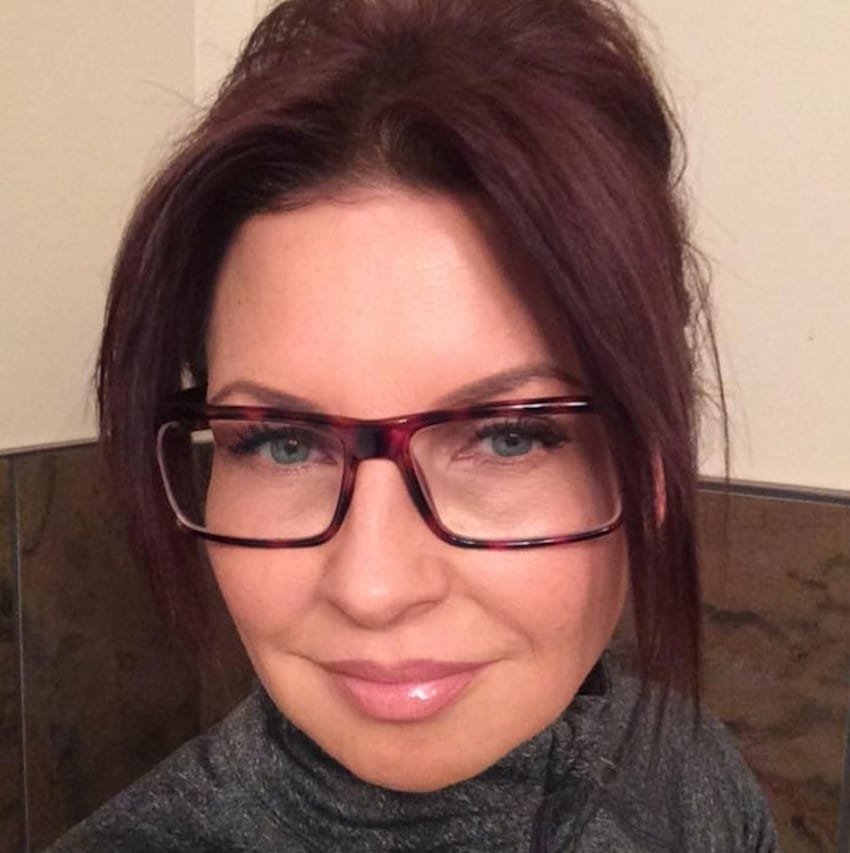 In the end, it is in the hands of the driver to determine if he is fit for making reasonable decisions while on the road, which is a dangerous decision in itself because being drunk means losing your better judgment for most people. Many people will still convince themselves that they are way more aware and capable of driving than they are.
One woman stood out for her good judgment as she knew she was too inebriated to drive herself home from the restaurant she went to. She left her car in the parking lot of the restaurant that night. Although she knew she was not that significantly drunk, she decided to act responsibly and not get behind the wheel.
The woman, Paula Grzelak-Schultz came back there several days later to claim her car, which she parked at the front of the restaurant in Alberta, Canada. On getting there, she found a note she first thought to be a parking ticket on her windshield.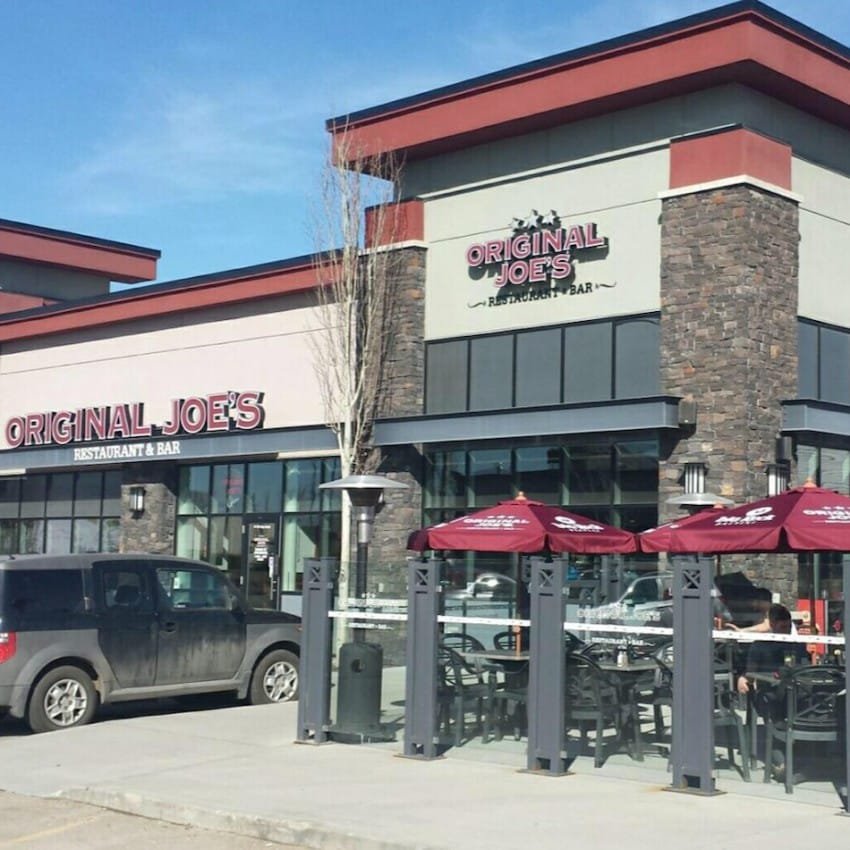 The note was written by the manager of the restaurant and has gone viral for the positive message it preached!
The woman, Paula Grzelak-Schultz visited an Alberta restaurant when she decided that she was too drunk to drive herself home. She left her car at the restaurant and returned some days later to find a slip on her windshield.
The note was from the restaurant's manager thanking her for her safety consciousness.
The manager wrote, "I Just wanted to thank you for leaving your vehicle parked here overnight. I am not certain you consumed alcohol at our restaurant, but we want to thank you for not drinking and driving."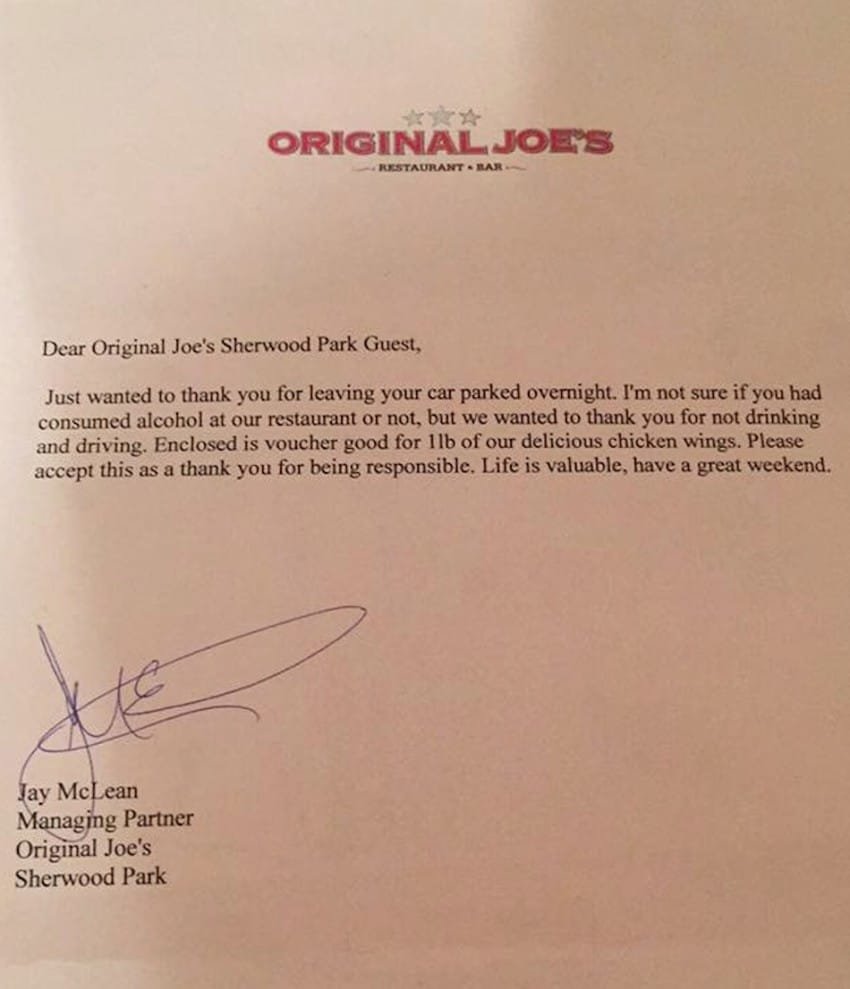 He added, "Enclosed in this note is a voucher good for 1lb of our most delicious chicken wings. Please accept this as thanks for being a responsible citizen. Life is valuable, have a great weekend."
Paula posted the note on Facebook, and it went viral very quickly, amassing more than 14000 comments and thousands of shares.
The social media users applauded the manager's positive approach to promoting safe road driving.
Among the comments are,
Laura- "What an amazing view they have on this. I'm really impressed with the manager's attitude and willingness to put himself out in such a positive way".

Gould – "I saw the original post, and I must admit, it is very worth it, it sends a positive message, and it is infectious.
Now, people are calling for establishments emulate the manager's actions to encourage customers not to drink and drive.
It is not only the jobs of bar or restaurant owners to encourage their patrons to avoid drinking and driving, each person can take precautions like this woman in order to avoid unwanted consequences. Alcohol levels as measured by the authorities should not be more than 0.08 in the body, but any reasonable person that knows they will be using their cars on the road reduces the risk for themselves and others by totally staying away from it.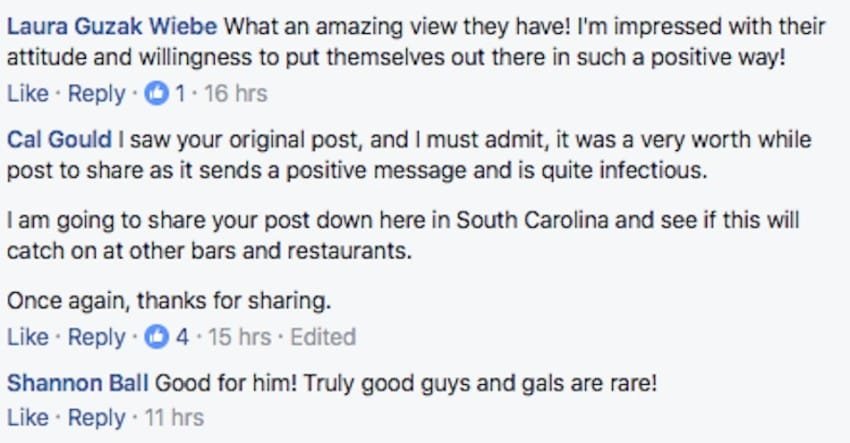 If you must drink before you travel on the road, hiring a designated driver or using public transportation is a viable alternative to driving the car by oneself. Paying attention to the body while taking alcohol is also very important. Signs like poor balance, slower brain activity signified by difficulty in speaking and slurring words, slower reaction times and abnormal behaviors are good indications that one is not fit to handle a car. If everyone could pay attention like Paula, we would definitely have reduced rates of road accidents related to alcohol.
What do you think about the note? Please leave a message, and SHARE it with your friends on Facebook!
Don't forget to LIKE US for more inspiring stories!
Please SHARE this with your friends and family.
---

Share this story with your friends and family!
---