Falling in love is a beautiful thing, but it can get complicated real fast if the person you love has a child from a previous relationship. Choosing to stay in such a relationship can be a difficult decision to make, especially if you do not have any kids of your own or do not wish to have kids at all.
Having a partner with children can be extremely challenging for various reasons such as; the children will always be a constant reminder of your partner's previous relationship, getting along with your partner's children can be very hard, especially if they blame you for the separation or divorce of their parents.
But on the bright side, some people like Diogo Balant believe that their partners and their children are one, so they love them just as much.
Read on below to see what surprise this incredible man had for his step child on his wedding day.
Diogo and Nicole Balant's wedding day in Brazil was going well. Then Diogo decided to stop the wedding just after he exchanged vows with his new wife.
No one knew what was happening until Diogo got down on his knee and turned to someone else, instead of his wife. It was Nicole's 6-year-old daughter, Isadora. Three years ago Diogo started dating Nicole. That was when he found out that she already had one child, Isadora from her previous relationship.
Isadora is not Diogo's biological child, but that was never an issue to him. He loved her nevertheless and accepted her into his life as his own daughter. On his wedding day, the stepfather made that clear when Diogo went down on his knee and popped the question to Isadora in front of the altar.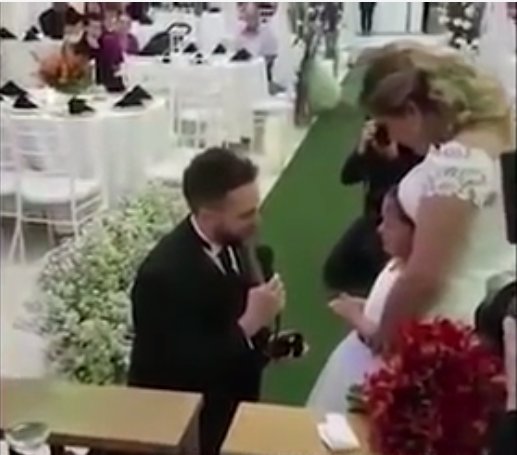 As the wedding guests looked on with tears welled up in their eyes, Diogo told little Isadora, "I want to ask you something."
He asked her if she would agree to be his daughter forever.
"Do you agree to be my daughter forever?" he asks. With tears in her eyes, the 6-year-old happily said, "Yes," without any hesitation. Isadora was also the maid of honor for her mother, Nicole.
Little Isadora could not hold back the tears, she was overwhelmed with joy and buried her head in Nicole's wedding gown
It was such a heart-warming and emotional moment; it was captured on camera during the ceremony that was held at Sao Bernardo do Campo, Sao Paulo. Everyone present was touched by the genuine love from father to daughter.
It is never easy for a child to accept a step parent. Most children hate their step parents and blame them for breaking up their biological parents' relationship. There is always a fear that they might go away someday, so they normally build a wall to protect themselves from getting hurt more.
Often times such children are very loyal to their parents and think that by accepting a new parent into their lives will be a betrayal of their biological parent. Another reason as to why children might find it hard accepting a step parent into their lives is because of jealousy – they believe that a new partner in their mom or dad's life will take up most of their attention and love, leaving them lonely.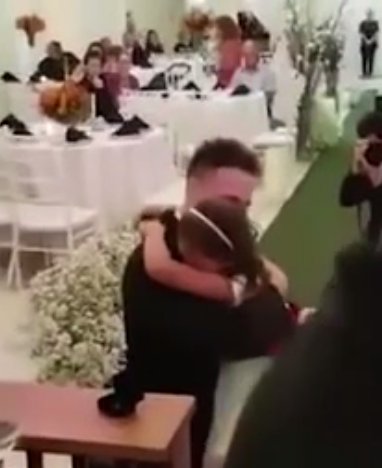 As Diogo put a ring on Isadora's finger, she knew her step-father was in it for keeps. It is pretty clear that any step-father who takes the time to include his new child on such an important day is a good one.
Diogo revealed to Inside Edition that he wanted to give Isadora by proposing to her too.
"My intention was to give her this special gift," Diogo told Inside Edition. "Everyone was very emotional."
He also explained, "Isa always wanted us to get married. And I wanted to do a special tribute for her so she felt part of the moment in front of our guests. I had the idea of a surprise with Nicole a little while ago; It was so that Isadora could feel part of this family that is forming."
Nicole was also excited and overjoyed by the beautiful moment. She told Brazilian newspaper Extra, "We wanted Isa to participate in our wedding ceremony because she is at that phase where she loves all things about princesses and is in love with the idea of being a bride." How sweet!
The happily married lovely couple is currently at their honeymoon in Cancun, Mexico.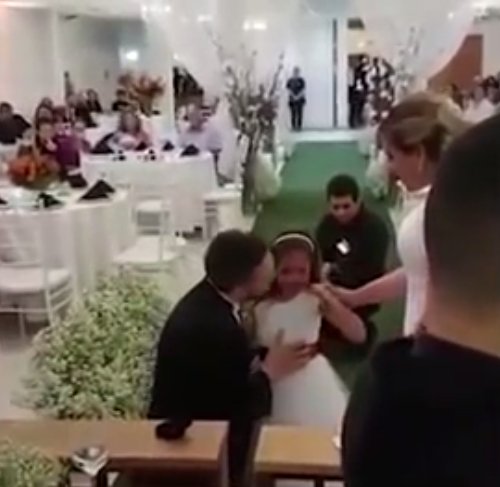 This must have been one very interesting and beautiful wedding ceremony. All step mothers and stepfathers out there should surely emulate Diogo. We wish the new little family all the best and pray that Diogo will stay true to his word.
See the touching footage captured during Diogo and Nicole's wedding in the video below.
Please SHARE this emotional video with your friends and family on Facebook to brighten up their day!
Don't forget to ♥LIKE US♥ on Facebook for more inspirational stories!
Please SHARE this with your friends and family.
---

Share this story with your friends and family!
---