August has had a lot of tragedies, and many people might say that it has been one of the horrible months in 2017. The worse thing that has happened, is the Hurricane Harvey. It was on August 25th, that this hurricane slammed into the southeastern coast of Texas.
The Hurricane Harvey did the first strike in the south of Texas in 1970. Meteorologists, together with reporters did some research and concluded that 'it wasn't a matter of if…but when'. Clearly, the when was on August 25th. The storm did strike with a worrisome force on the radar screen for days. It's quite unfortunate that the utter of devastation it would cause wasn't fully predicted.
Lives were lost, properties were destroyed, and the city of Houston had sustained punishing rainfall. It was so horrible that one could think, they had wronged the highest. To top it up, the News Crew found the local conditions in another state. A state that the conditions are almost beyond navigation, is a state that seems to have no hope. They struggled and hustled to cover their breaking news of the damaged area.
Before all this happened, the Harvey was thought to be more like a wave and at low pressure. Well, they thought wrong.
The property has been damaged is not as bad as losing a lot of lives. The storm was earlier suspected but it wasn't well known.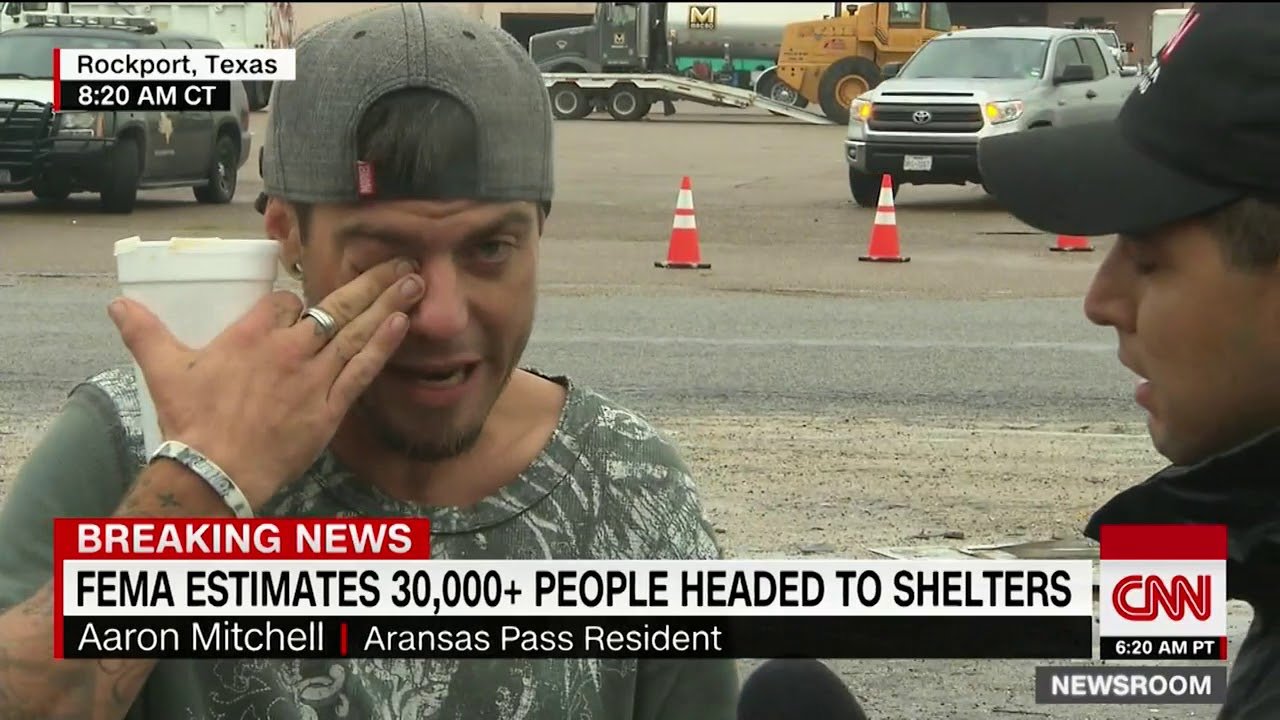 One of the people who had an encounter with the storm had a talk with a CNN reporter. Aaron Mitchell, a local Rockport resident described being separated from his family in the incident that occurred. I can just feel the pain he was going through. Would you sympathize with him and try to help Aaron in any way? I bet I would do something to help out.
He seemed to have been struggling to hold back tears of fear, pain, anger, and frustration. If time could be reversed, be ascertained that the raging storm would have been erased.
Can you imagine walking through dark, flooded streets all alone, and the fear that hits you up is abnormal? Mitchell, told Valencia the reporter, that he went through that street as he tried to locate his father.
He described the situation as "terrifying". Going for 12 miles, looking for a person ain't no joke.  He honestly admitted, he'd lost everything he slaved for.  It's such a heartbreaking story he has! Valencia took the liberty of asking him the name of his parents, and he sadly shared their names: Betty and Brian.
As disheartened as he was, he looked into the camera, reassured them that he was okay hoping that they were watching. He said his mother was in Oklahoma. She was at least safe, but the dad, on the other hand, was nowhere to be found.
If I were him, I would be highly stressed up and maybe think of suicide, of which this isn't a good idea.
We all need to have kind hearts like the CNN crew. They felt sorry for Mitchell, so they took that matter into their hand. They tried using their Satellite equipment, and luck fell on their side. He was able to connect with his father.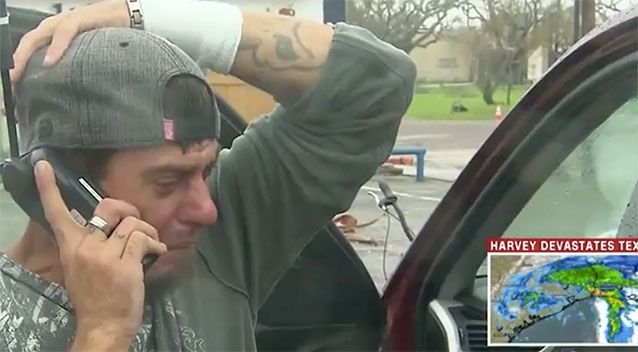 It was like a miracle to Mitchell. He shed tears of joy when he heard his father's voice. That's one of the moments one builds up the walls of hope!
He really wanted to know if the dad was okay and at the end, Mitchell told his dad that he did love him. He was opening up while in utter exhaustion at the same time relief.
After the small conversation they had over the telephone, Mitchell boarded a bus and was heading to Austin. His dad was waiting eagerly for him at that point. The joy that Mitchell had couldn't be measured. If it was you too, there would be a higher chance that even one second you couldn't waste it, but evacuate while you had the opportunity.
As the negative impact was produced by the Hurricane Harvey, the federal team estimated 30,000 people needed shelter, and approximately 45,000 victims required some disaster relief. We do hope that they will all get the assistance they need, and start everything all over again as a fresh.
Aaron Mitchell just made a point that what matters most is being reunited with family. The compassionate CNN crew did take a big step of assisting Aaron out.
As good citizens from all walks of life, let's gather together, assist each other in whichever way, and for the entire nation we do hope and pray that all shall be well at the end of the day. A lot has happened during the breaking out of the storm, but we'll still be strong and fight together through this challenge we are facing.  There's no force stronger than love.
"Don't forget to LIKE US on Facebook!"
Please SHARE this with your friends and family.
---

Share this story with your friends and family!
---