The Holliston Police Department in Massachusetts recently received an incredibly thoughtful and unexpected present from one young, thankful citizen by the names of Jackson Bisazza. A lot of people have been wondering who this young thankful citizen is. 
Jackson Bisazza a six-year-old from Massachusetts has been through a difficult experience in his six short years on earth than most people have endured or can endure in a lifetime.
This is an incredibly strong and courageous young boy who has had to undergo surgery 22 times since he was brought on to this world. The procedures he has undergone so far have enabled him to walk considering that he couldn't walk and was born with several other problems. And what does a child who's conquered such trials and tribulations do in his spare time?
You can go ahead to think about what kind of things this young boy does as hobbies and one would be surprised at what he can do in his spare time. Jackson Bisazza decided to pay a surprise visit to his local police department in Massachusetts of course and he didn't come empty handed. He came carrying a little "something" for the unknowing police officers at the station.
Jackson and his family showed up at their local police department with 30 paper bags for all the police officers at the department with nothing but an appreciative heart for all they do to keep everyone in Massachusetts safe and happy. The sacks were filled with tasty goodies and labeled with a very moving and inspiring message.
The note was attached to each bag that was given out to every single officer and was entitled "Survival Kit For Law Enforcement Officers," and all of the candies and goodies contained in the sacks were given encouraging and clever meanings which were to be interpreted in relation to their work. that was super creative and very nice of this young boy and his family. The police officers felt highly appreciated.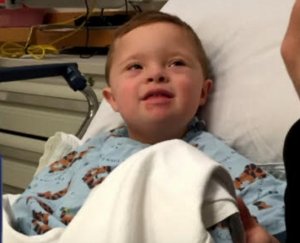 Chief John Moore one of the heads of the Holliston Police Department shared with WBZ News it is surprisingly and appreciative gesture that this young boy showed towards them. "As you know, policing is going through a troubling time – at least for the last two years. And when citizens come out and support us, it really tugs at your heart strings." The police officers were so touched in fact by this young man's generous gesture, that they chose to post a picture of the special event on Twitter, snap chat, facebook and moved this around on WhatsApp.
Jackson's random-act-of-kindness quickly went viral, touching hearts and uplifting spirits everywhere not only in Massachusetts but countrywide. It went on to be shown on tv by the local television stations in town talking about this kindness, love as well as his courage. The duties of a law enforcement officer can be extremely dangerous, the hours can be long, and the time spent away from family can be difficult. But these selfless men and women willingly sacrifice a lot to serve their communities and see to it that there are law and order.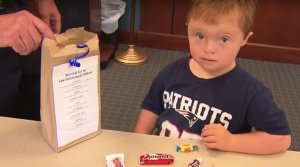 Jackson's mother Wendy understands the love and commitment that her local officers have for their community – and she felt compelled to show them just how appreciative her family is of their dedication and hard work.
Wendy explained of her family's gesture,
 "I hope it inspires other people to do things for their local department. I know some of these guys are friends of ours – we know they have families, we know they go out at night. It's dangerous and it's scary."
The officers were so moved by Jackson's "sweet" gifts, that they wanted to do something special for him in return. This young boy was presented with the very same Holliston police patch that his local heroes wear, and a police badge to go with it!

More than ever before, our world needs random acts of kindness.
Speak more uplifting words, lend a hand to a struggling stranger, or reach out to a neighbor in need – or better yet, do it all! Share this "sweet" story with your loved ones, and remind others of the importance of spreading kindness!
Don't forget to ▼LIKE US▼ on Facebook for more inspiring stories!
Please SHARE this with your friends and family.
---

Share this story with your friends and family!
---