LIKE OUR PAGE

For Navy Veteran, Eddie Browning and his dear wife Cindy Browning, getting a new house would be the answer to their prayers. A terrible fire had damaged their camper and it was in a such a poor state. It was definitely not the kind of accommodation for a man who had served his country. He and his wife endured the freezing nights hoping and praying for a miracle so they could have a better place to live.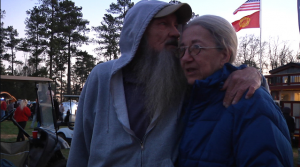 It was also not healthy for them to be sleeping while exposed such cold temperatures. They ran the risk of catching an ailment from the cold. Every day they hoped for a solution. There was not much they could do to help themselves and so help had to come from somewhere else.
Help came from a group of children. The couple was so grateful that their prayers were finally answered. They had waited for such a long time but they had never lost hope. They were overwhelmed by this unexpected but generous and kind action.
Eddie Browning, 61, was tearful as he told Fox 5 Atlanta about it. He said he was lost for words. He was clearly so emotional. He could not begin to explain how they felt. Eddie could not wait to move into the new house. He and his dear wife now had a roof over their heads.
There was a Georgia Tiny House Festival in Eatonton at the Ooh La La Lavender Farm. It was there that a group of students from Elm Street Elementary in Rome, GA, together with some volunteers, presented a tiny house to Eddie and his wife. The group had constructed the house just for them. The students had seen their situation and had wanted to help them. So they came up with a plan to build a tiny house to help the elderly couple. They could not let them keep living in that state especially with the cold weather.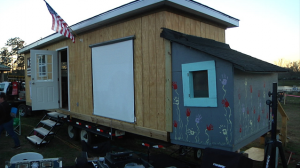 The couple was so happy and felt so blessed to receive the new house. What amazed them more was that the effort had come from school children. It was shocking to find kids who could be so compassionate and who gave their time to help others. Those kids had dedicated themselves to helping them. They had become the answer that the couple was waiting for and had done something that Eddie and his wife will never forget.
Cindy Browning, 59, couldn't believe it. It still feels like a dream to her. After all those chilly nights she couldn't have guessed help could have come from school children. She and her husband would not have to endure those cold nights again thanks to them.
The students had been working on their building project for an entire year. They had completed the Brownings' home but did not get a place where they could legally place it. But they were patient and kept searching for a place so they could help that couple. They also wanted the tiny house to be safe. Organizers with the Georgia Tiny House Festival and Ooh La La Lavender Farms were informed about their problem and gave them permission to store it on the farm until they could find a place. This was such a great help to the school children.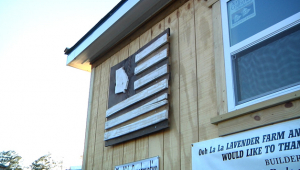 They also got help from donors, volunteers, and corporate sponsors. They were, therefore, able to include electricity, plumbing, and a larger extension to the house. They also added all the necessary amenities to the house. They worked hard to make sure that the house became legally habitable. They were then ready to present it to the Brownings and bring joy to the couple.
Eddie Browning told Fox 5 Atlanta that the house was definitely going to be warm and after the cold, they had to endure, it was truly heaven sent. Eddie said they had been freezing to death in the damaged old camper. It was a miracle that they had not fallen sick. When the Georgia Tiny House Festival is complete, the new tiny house will be carried to back to the Brownings property which is Norwood. It was such a successful project that helped a couple that was in desperate conditions. Now Elm Street Elementary School plans to construct a new house for a family that is in need. They will do this every year. Having learned from the Browning's project they know the subsequent projects will be completed in a much shorter timeframe.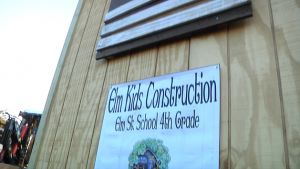 They have come up with an exciting motto for their project: "Tiny House, Big Dreams." They welcome and are eager to receive donations for their future projects. The donations for the Brownings and the elementary school's future tiny house project can be mailed to Elm Street Elementary School, c/o Elm Kids Construction.
Veteran Couple That Slept in Freezing Cold Every Night Loses It When School Kids 'Give' Them a House.
What a heartwarming story. Please leave a message for the amazing kids! And SHARE on Facebook to let your friends can feel warm, too.
Don't forget to ▼LIKE US▼ on Facebook for more stories!
LIKE OUR PAGE