A grocery store worker located in North Carolina saw one of the bagging boys make a dashing run through the parking lot of the store without a clear reason in sight. She was amazed by what she saw later that she could not resist taking out her phone to take a picture or two.
Aaron Sanders was going about his bagging duties as usual at the Ingles Market when he looked out the window to see the downpour getting a lot heavier. At that moment, he saw something else that got his attention, and he knew he needed to make his move as fast as possible or lose the opportunity.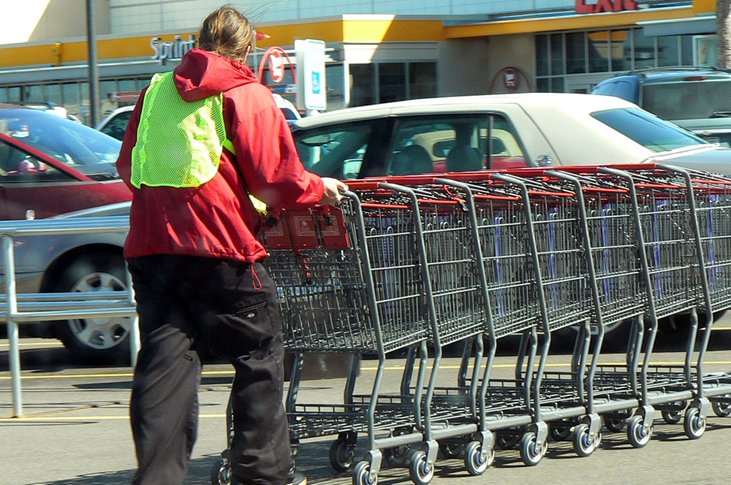 What Sanders saw was an elderly woman, drenched by the rain and pushing her cart along the wet parking lot.

Sanders took it upon himself as a call of duty, grabbed an umbrella and raced out the door to help the elderly woman push her groceries to her car while keeping her from the rain. She initially declined his help, but Sanders was persistent till she gave in.
When local reporters found out, he was interviewed, and he said,
"I told her that I prefer if I helped her out."
She agreed and allowed him to hold the umbrella over her head to keep her dry.

As he walked towards her car, the elderly woman wrapped her arm around his waist, drawing the attention of people in the vicinity, the shoppers and store employees alike. Violet Baiera, one of the employees witnessing the event snapped a picture of the heartening moment and posted it on the Market's Facebook page.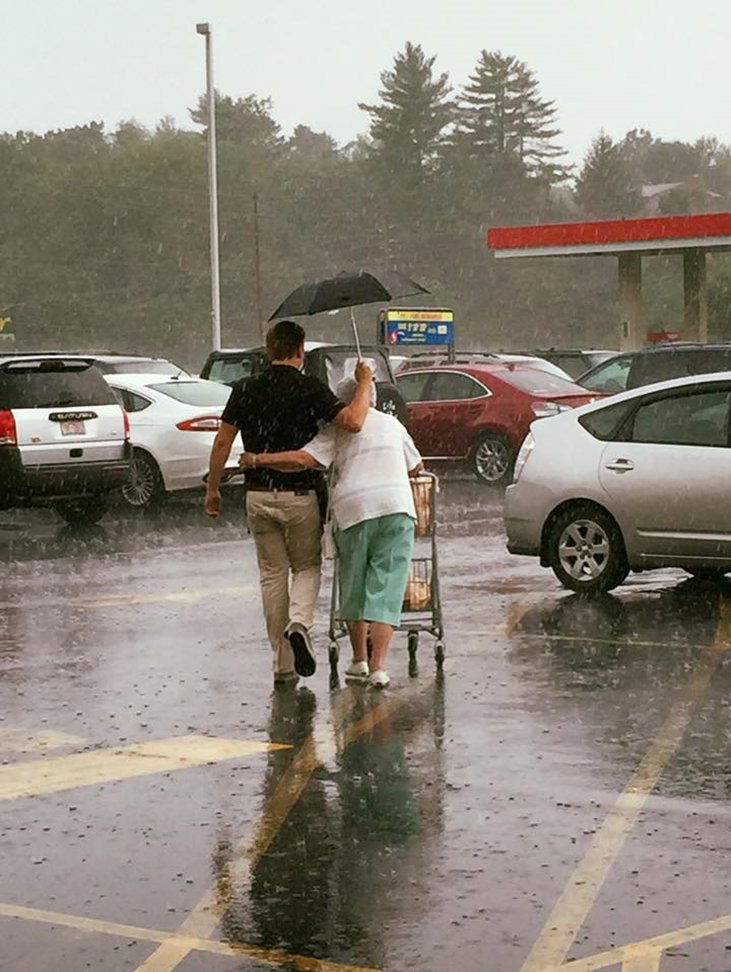 She added the following message to her post:
"I'm so in love with this photo I took today as one of our bag boys was helping a sweet elderly lady to her vehicle. While the rain came down a lot harder as they walked, she put her arm around him and pulled him close, the umbrella folded up before they got to the car, and he was soaked wet. The rain let up a few minutes after that, but I saw how sweet the whole thing was, that he knew he would get wet and did it anyway."
Her post got hundreds of comments from people complimenting Sanders for his kind gesture and how it has moved them. One commented:
"Thanks a lot for sharing this. With all the unpleasantness reported in the mainstream media, I really think a story like this came at the right time to put a smile on our faces…His momma must be so proud of him!"

As things would turn out, the person was right. Sanders posted a feedback on the page when he saw the post himself,

"I want to say a big thank you to everyone who has dropped a comment and liked this photo; I am from a complicated past with just my mom, she's all my reason for being me, I never had a father in my life, therefore all the credit to my mom. She wept when she saw all your kind comments and likes, once again, thank you. I really hope this puts a smile on all your faces as you've done for me."
What an amazing young man, what an inspiration he is to us all!
Please SHARE this incredible story with your family and friends to make their day!!
LIKE us on our Facebook page too!!
Please SHARE this with your friends and family.
---

Share this story with your friends and family!
---