Motherhood is such a beautiful thing that every woman, with the exception of a few, looks forward to in her life time. It is one of those few things in life that has a sweet savor to it. It brings joy, warmth, anticipation, name it. Wow! the expectations are so awesome. Finally, you get a  baby of your own that you will cuddle, love and share so many things with.
When you are pregnant, your plans and thoughts are all focused on the beautiful outcome; it's on rare occasions that you get negative thoughts about your baby or child birth. Even when you are aware of the challenges to child birth, you can never see yourself as a victim.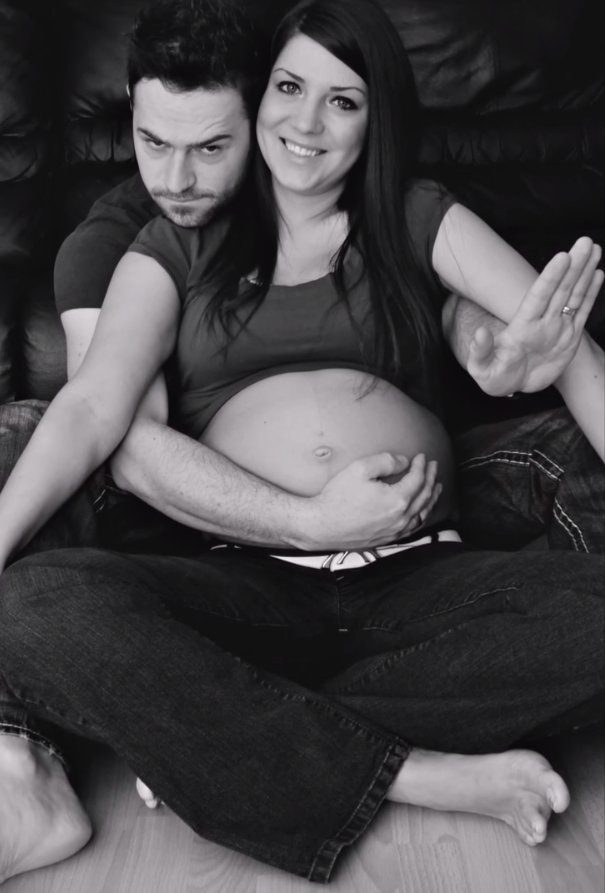 But the reality is that there are serious problems associated with child birth. These may include but are not limited to, urinary tract infections, endometritis, mastitis and possibly Gillian Barre Syndrome (GBS). Proper diagnosis is imperative. For if not arrested in time, these illnesses may lead to life threatening conditions as is the case of Holly Gerlach who was diagnosed with Gillian-Barre syndrome.
Gillian-Barre Syndrome is a rare disorder in which a person's own immune system damages their own nerve cells, causing muscle weakness and sometimes paralysis. No one yet knows why GBS which is not contagious attacks some people and not others. In addition, it is not established what sets it in motion. However, it is thought to be triggered by infections. Its symptoms usually last for a few weeks.
After the first clinical signs, the symptoms can progress over the course of hours, days or weeks. Nevertheless, most people reach the stage of greatest weakness within the first two weeks after symptoms appear and by the third-week patients are at their weakest. Symptoms start in the feet and hands before spreading to the legs and arms and progress to the whole body. Patients also get pain, tingling, numbness and can have problems with muscle weakness, coordination problems, and unsteadiness.
The most disturbing fact is that several disorders have similar symptoms. The good news, however, is that GBS can be differentiated if symptoms appear on both sides and the quickness with which they appear.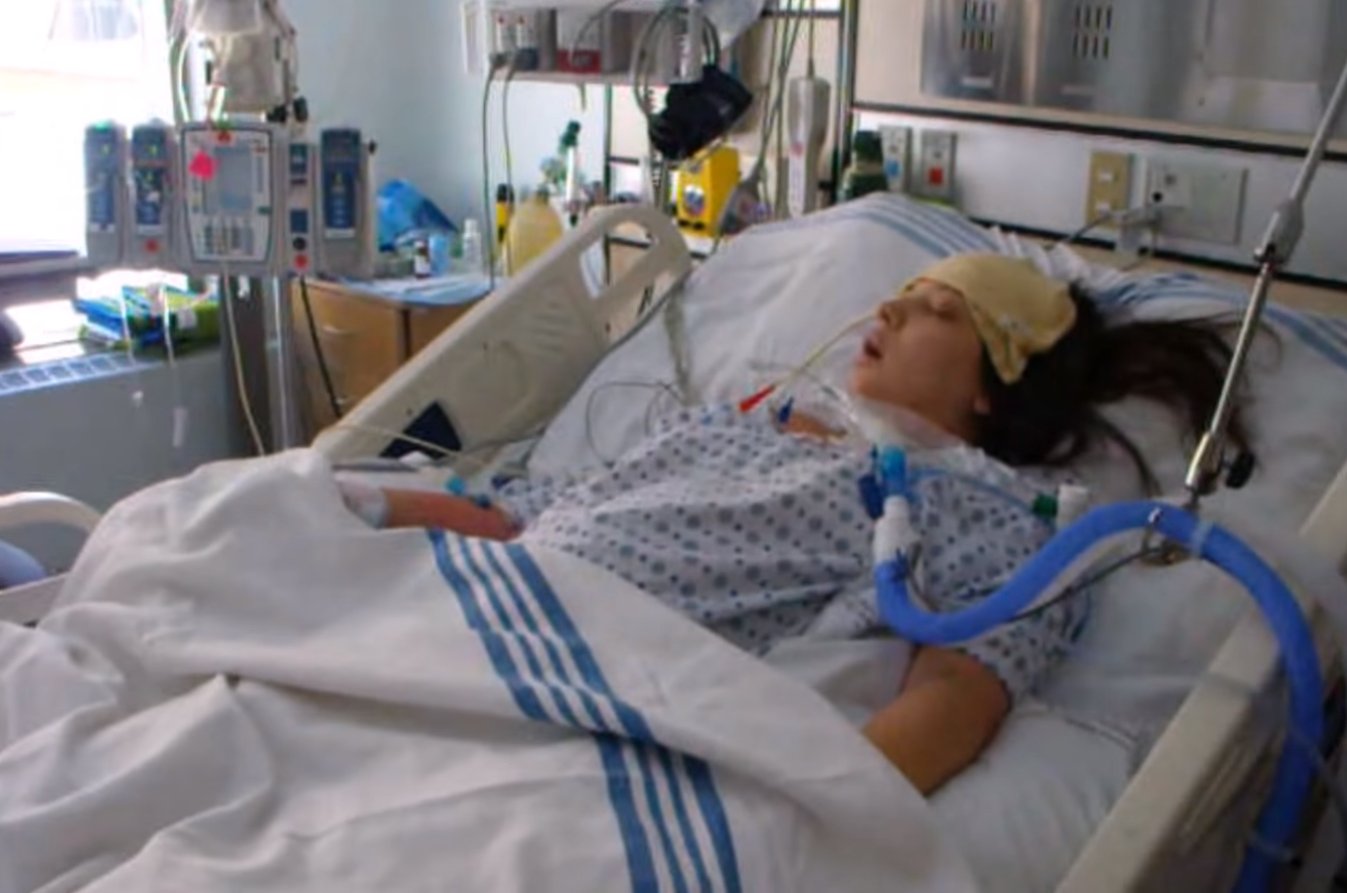 31-year-old Holly Gerlach is a mother who couldn't wait to have children.  She has shared her pain and challenges she has faced after being paralyzed by childbirth. Holly began to feel a mysterious tingling in her fingertips just over two weeks after giving birth to her beloved beautiful daughter whom she named Casey. Thinking she had the flu, she consulted her GP but was simply told she had a pinched nerve and sent home to recover.
But later in the middle of that night, she got up to feed her little baby, Casey and collapsed after her legs gave out. Her then-husband – Casey's dad – rushed her to Grey Nun's Hospital in Edmonton, Canada.  Even though she was adamant she wouldn't be there for long she accepted. Little did she know that her case would turn out to be a medical emergency.
Sadly, Holly was diagnosed with Guillain-Barre syndrome. It was a complete shock to her when the medics revealed to her the sad news. Though they are still unsure as to the exact cause, they strongly believe childbirth was the trigger for the potentially fatal condition.
Just within 72 hours after her symptoms had first struck, the new mother was completely paralyzed and unable to breathe on her own.
The mother of one was very depressed and suffered excruciating pain. It was a heartbreaking and difficult period for her as she had to stay away from her little bundle of joy, Casey who was only just 20 days old at that time.
"I was told my case was very severe,' she said. 'I was in a lot of pain, so I was very sedated and my memory is quite hazy."
"I just remember being really scared, and depressed about being away from Casey, who was only 20 days old at the time, "she added.
Holly thought she was going to die or be stuck in a wheelchair for the rest of her life because of the dire condition she was in. She could not breathe without medical support, so she was admitted immediately to the hospital's intensive care unit.
While there, doctors performed two different types of blood-cleansing treatment – one of which almost killed her. She explained:
"When one of the tubes was inserted to start the treatment, it ruptured an artery. I was rushed down for emergency surgery, which took around five hours. Doctors told my family that I probably wouldn't make it through the night. Luckily, I pulled through, but I've been left with a scar from just under my chest all the way down to my groin."
Holly was completely paralyzed for over 6 weeks. Even so, she made a quick recovery. She was not able to talk because she had a tube in her throat, she had to use a letter board to communicate with her family. Her little baby, Casey was brought in to see her every day and placed on her chest so that she could be able to bond with her baby.
GBS patients experience not only physical difficulties but emotionally painful periods as well. It is often difficult to adjust to sudden paralysis and dependence on others for help with daily routine activities. Sadly Miss Gertarch too suffered emotionally; the thought of being away from her child was very disturbing.
She said, "It was very hard seeing her and not being able to properly cuddle her or talk to her. I became extremely depressed. Sometimes I'd rather she didn't have to see me like this because I couldn't be the mother she needed me to be."
Luckily, after six weeks, her fingertips started to move again. Little by little, she grew stronger by the day and successfully regained movement across her body. By God's grace, she also learned how to breathe on her own again, which she said was the most difficult thing she has ever done.
"At first, I was taken off the ventilator for 30 seconds to try and breathe on my own. It was so difficult, I felt like I'd run a marathon,' she said.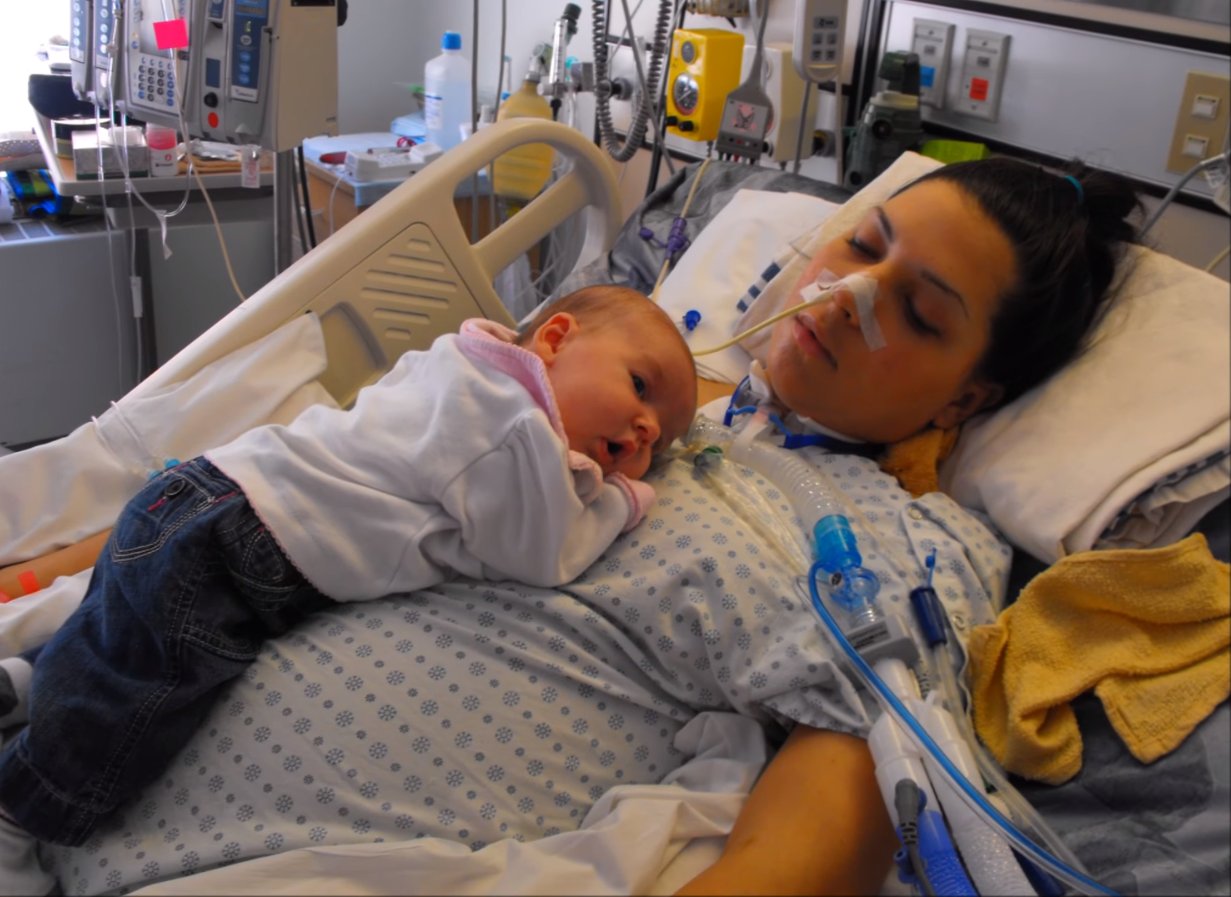 She further added, "Then, doctors gradually increased the time I was off the ventilator for until my lungs were strong enough."
Holly was later moved to a stroke ward for another long six weeks. This time around, she worked hard to strengthen her arm muscles and fine motor skills. Then, she was transferred to Edmonton's Glenrose Rehabilitation Hospital, where she underwent intensive physiotherapy. With time, she steadily progressed from being completely reliant on a wheelchair, to be able to move around with the aid of a walker. By the time she was finally discharged for good, she had spent 126 agonizing days in the hospital!
She was a very determined and strong willed young lady; she had begun to practice walking with a cane. Remarkably, just three weeks later, she was walking completely on her own, without any support.
"I got stronger every day,' she said, It was amazing to be back home with Casey. At first, I struggled a little as I was still very weak. I couldn't lift her up or do a lot around the house. It took some time before I felt normal again. Though Casey and I connected and bonded, I think all that time away from her had impacted things. For a while, I felt like I didn't really know her or understand why she'd be crying. She'd cry for her dad because she was used to being at home with him. It took a good eight months before I really understood her needs." She said.
Holly is more or less completely recovered and goes to the gym almost daily – as she feels even stronger now than she was before being struck GBS. She also revealed that her relationship with her daughter is now stronger than ever, they understand each other and get along pretty well.
Despite all this trauma she went through, she's very grateful for getting a chance at being a mother to her little baby and she's determined to do everything for her beloved daughter, Casey.
What an inspiring story this is! Please leave a message for the family and SHARE with your friends on Facebook
Don't forget to ♥LIKE US♥ on Facebook for more inspiring stories!
s
Please SHARE this with your friends and family.
---

Share this story with your friends and family!
---