When desperation sets in, you are most likely to go out of control. The common saying that desperate situations call for desperate measures then comes to life. What do you do when you are in a seemingly hopeless condition? Imagine if there's someone really hungry, walked the streets, had no money, no food and you smell all these adrenaline raising aromas and all those nice things in the shops that you cannot afford to buy.
One's mind cannot even fathom the consequences of your actions until he or she is caught and realize what just happened. Sadly a desperate single mother was faced with this challenge. Pressed between a rock and hard place, she did the unthinkable which landed her in trouble.
Well, let us face it, surviving and thriving as a single mom can be very challenging. Whether it is by choice or a result of an unfortunate circumstance, single motherhood brings about its own unique set of challenges. Raising a family requires that you perform the roles of two people, the father, and the mother.
She will not have the luxury of sharing many of the responsibilities that two parents have. You will be the sole provider, disciplinarian, comforter, shoulder to lean on, teacher, counselor and so forth.
Mothers are perceived to be role models everywhere they happen to be. To do such an eye raising act of theft would be so demeaning. But why? Before we put blame, listen to her story, why she stole and for who?
With this in mind, in a rare turn of events, this single moms dignity was saved by a good Samaritan. Guess who? A law enforcement officer! How it all started. Bennet Johns, A Maryland police officer at Laurel Police Department was recently called to a scene at a local giant store to make a shoplifting arrest.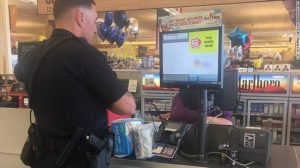 But when Officer Bennett Johns was called to the shoplifting scene, he was expecting a routine call. When he arrived, he was shocked to learn that the accused was a single mother of a 2-year-old little boy.
She needed new diapers for her young son but unfortunately, she could not afford them. Apparently, the single mother was caught red handed shoplifting $15 worth of baby diapers from the store over the weekend, reported Fox 5 DC on Monday. To everyone's surprise, the police officer did not arrest the lady like everyone expected, he instead did something out of the ordinary – helped out this desperate mother accused of stealing diapers for her young son by purchasing them for her and the boy because they desperately needed them.
Johns said when he showed up, the shoplifter turned out to be a mom who was trying to get diapers for her two-year-old son. He carefully listened to her story and decided to help her out by buying the diapers for her and her adorable son.
He said, "This mother was going out of her way and doing everything she can to provide for her kid and I can respect that," Johns told Fox 5 DC. "I can sympathize with that as well so that is why I felt compelled to help the mother in purchasing the diapers for the kid." It was so easy for Officer Bennet to what he did because after being raised by a single mother as well, he quickly related to this poor lady's son.
"I see [the toddler] and I see myself growing up with a single mother and I want him to have a better life too," Johns explained. However, he did end up writing the mother a citation for theft and she will have to appear before the court for her misdemeanor charge. Laurel Police Chief Richard McLaughlin praised her officer for stepping up and helping out the desperate mother.
She said, "I'm very proud of my officers," said McLaughlin. "All of my officers and particularly this one. I think it speaks volumes that they are doing the right thing for the right reason when nobody is watching."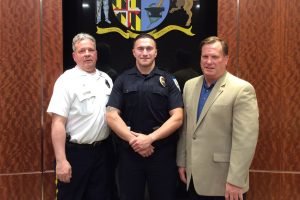 However, this case is not the first of its kind. A Kansas police officer also helped out a homeless mother of six who was caught stealing diapers two years ago in a Walmart. Officer Mark Engravalle issued the mother a theft citation but bought her children shoes, diapers, wipes and other necessities.
It goes to show how compassionate the men in uniform are despite the fact that most people fear them.
 Hopefully, Officer Bennett's actions have shown the single mother and her son that there are resources and people out there to help them in their time of need.
What do you think about the officer? Did he do the right thing? Please let us know your opinion in the comment section below and SHARE with your friends on Facebook to know what they think about this issue.
Don't forget to ♥LIKE US♥ on Facebook for more inspirational stories :)
Please SHARE this with your friends and family.
---

Share this story with your friends and family!
---