You already have heard of the event that happened in Texas just the other day, right? The Hurricane Harvey is what has been trending all over the news, and most likely the world.
Joe Garcia, a resident of Spring, Texas has been waiting patiently for the rescue team to arrive, and save him from his flooded area. His community and surrounding areas have also been victims of the Hurricane Harvey.
What did they do so as to deserve such a raging storm? Seemingly, the storm swept off the entire town. Staying in water for some hours, days, weeks, and months without any shelter or maybe food, is something that's unbelievable.
Joe, a resident too, would be named a survivor. He has been through thick and thin, and he was still strong. Can you imagine staying in the cold water for that same time Joe spent? Not even half of the people in this world, take a cold shower.
For sure, God doesn't forget about his little soldiers.
As he struggled through the chest high water, he sorted himself, and his belongings to safety. Exhaustedly, he pushed a tub of his belongings to the safety of the rescue vessel.  Guess who he grabbed to join him? It was his soaked up dog, Heidi!
The second love that exists and it's said to have strong bonds is the love for humans to pets. Pets have been long-time pals over the past several years. We mostly have cats and dogs, but dogs are the most loved.
Joe would have left Heidi behind, as he had the chance but he didn't. He lovingly carried her, making sure that her head was staying above the floodwater. What a love they got!
The photographer made a move and captured that one moment.
It's rather prodigious, to see a huge crowd refuse to leave their pets behind. Mr. Garcia wasn't the only person in love with his pet. The homeless people, most of them have those furry loved ones that are just as important as other members of the family.
These people not only carried one dog but also two dogs. Meet Belinda, the lady who wouldn't leave her two dogs: Winston and Baxter behind.
It's true that dogs are man's best friend. Belinda was not lonely as she got her best friends beside her. She was profounded with shock when she woke one morning and found a pool of water that had filled the entire first floor.
Together with her husband, each grabbed their dogs, ran up to the second floor to wait for the rescue boat, to come to their rescue. Terrified, was what the dogs were experiencing, but at least they were on a safer ground this time.
Would you carry all of your belongings in garbage bags? Belinda and her husband had to use garbage bags to carry their items. Luckily, the boats finally arrived and sailed away together with her two pups and husband.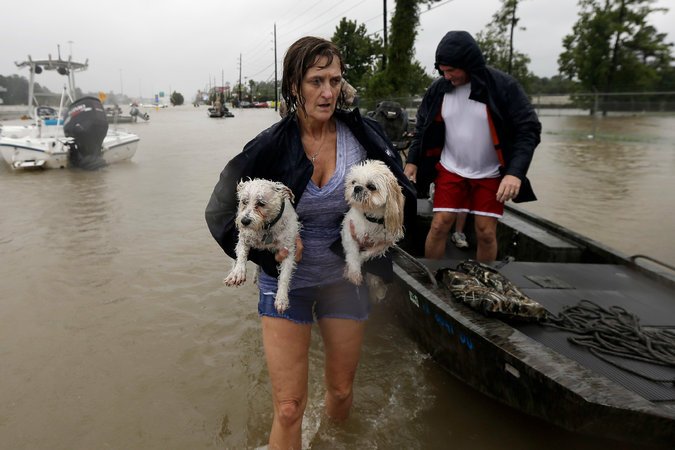 Ms. Penn said that every situation is different, but for them, it wasn't an option to leave their pets behind. They were her best friends. In short, they were family too.
Did you know that a dog is the only person who loves you more than he loves himself? Well, maybe this is the reason Ms Penn loves and treasures them dearly.
You win some, you lose some. Lots of the pet owners lost their treasured pets because of the Hurricane Survey, but fortunately- many were rescued. A few scenes were captured on camera.
Take a look at some of the finest photos of people, going that extra mile, just to keep their pets from being casualties of the raging storm.
Such amazing though tragic moments!
Who knew a cooler would act as a transportation piece? These couple carried their two dogs in a cooler,as they seek refuge.
They were seeking refuge at the George R. Brown Convention Center in Houston, Texas, hoping that they could get some assistance. At times, this is the point that you can reach and feel that you can't keep on pushing that wheel of life.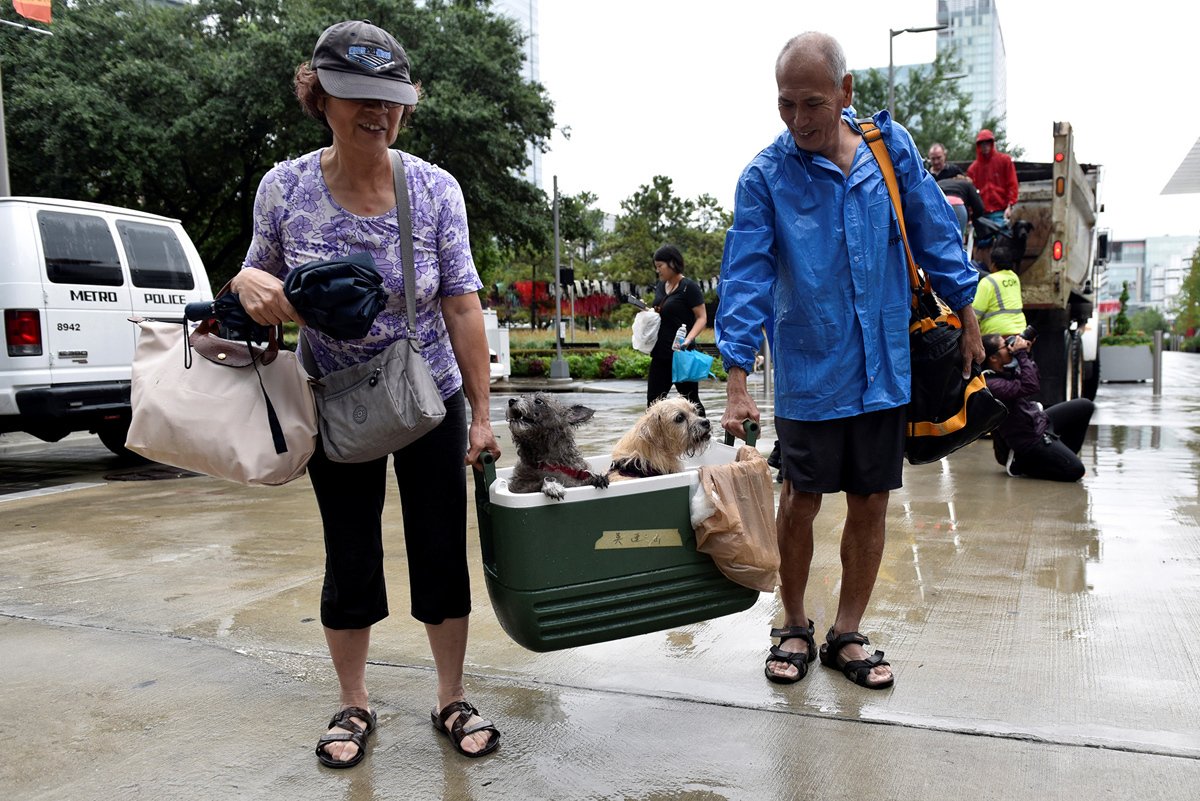 We all have different tastes, especially when it comes to having which dog as your own pet. Some love the fluffy ones, others love small dogs, others love big dogs, just like Isiah Courtney.
Isiah Courtney is a victim of the Hurricane Harvey, and he goes to the extent of putting his big arms to work. He owns a big and cute dog, of which he uses his strength to carry the dog, named Bruce, to safety.
It was exhausting carrying those heavy bags, together with a pet. But who cared?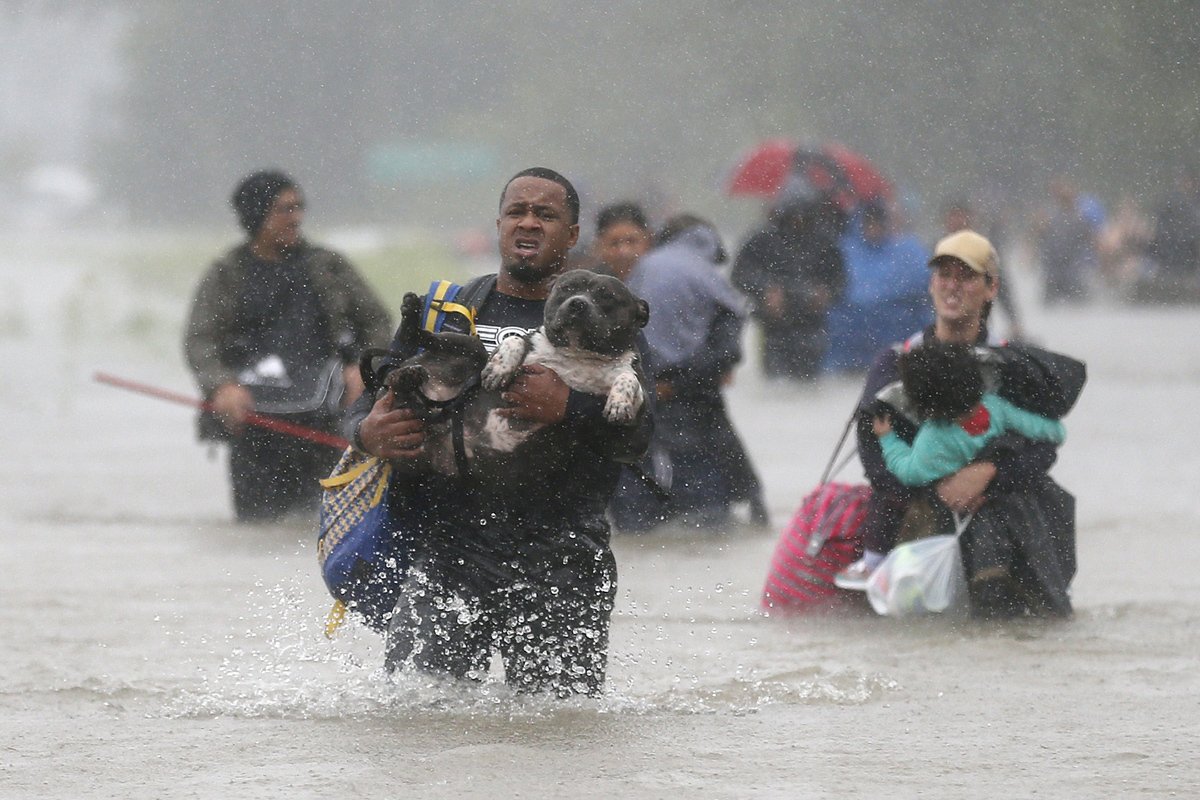 The things we do for pets, are just crazy! Naomi Coto, with all her courage and determination to make it through, put her dog, Simba, on her shoulders and walked to safety.
That attitude that she held on, got her and Simba on a safer place. She doesn't think twice of doing what she did. The dog looked mesmerized, probably because of the way he was carried.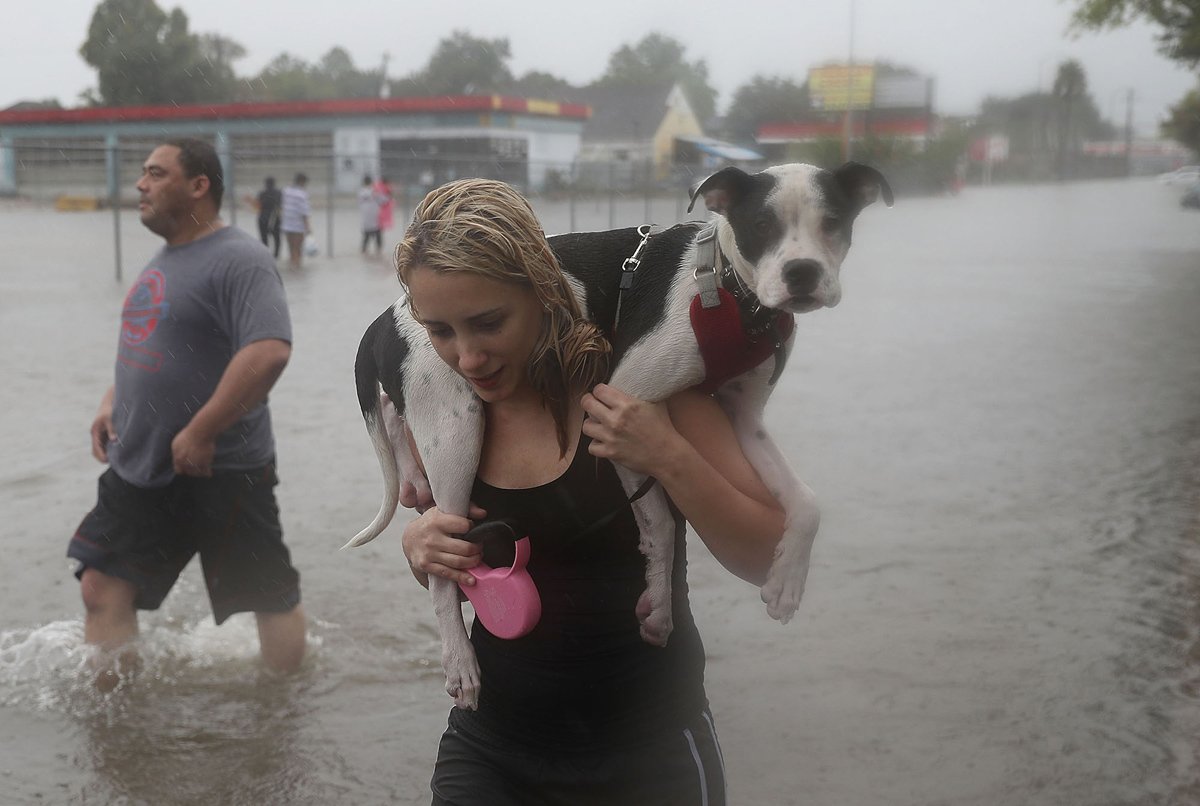 After evacuating home, a lady clings onto her little dog tightly. Just when she got onto a higher and safer ground, she decides to take a stop, and pose for the camera.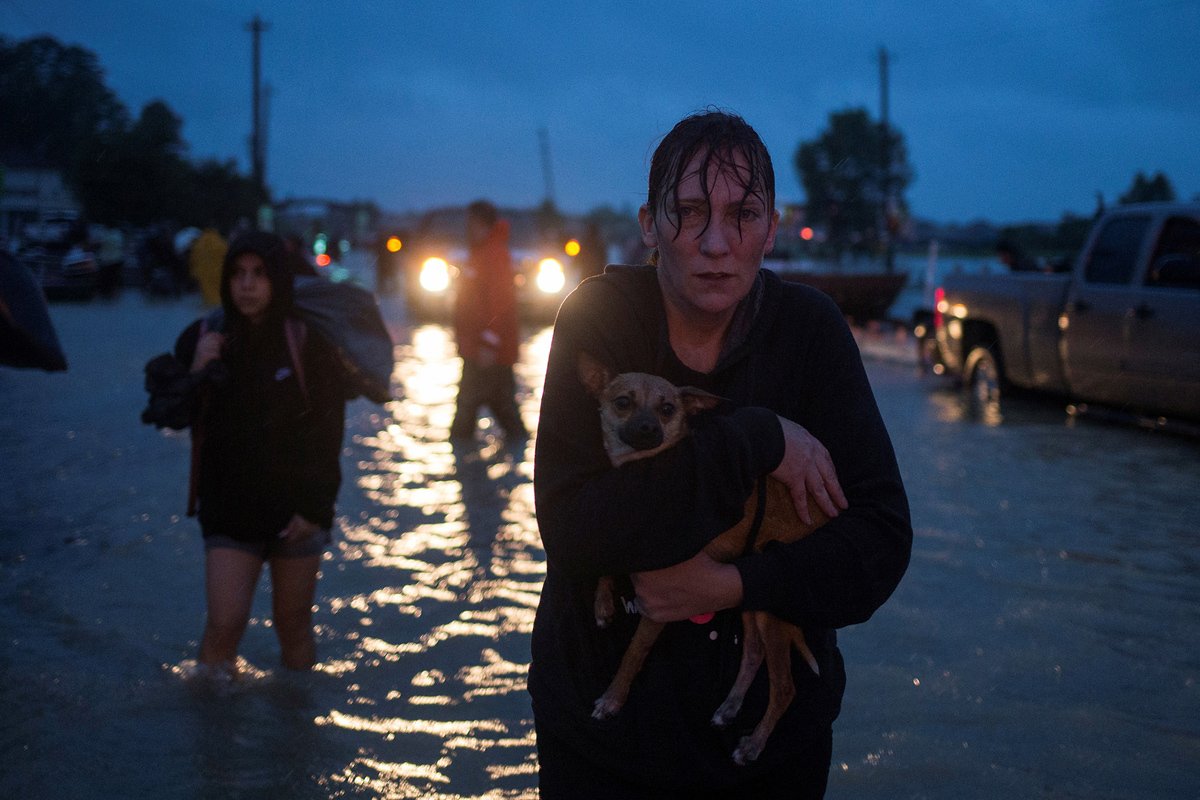 Do you ever feel sorry for someone, who is going through hard times? The heartbreak of Sam Speight's could be felt from a far. He seemed to have been holding back tears while looking around at the havoc of his home.
His dogs were trying to give him some comfort, yet Sam seemed to have lost hope.  His home was completely wrecked.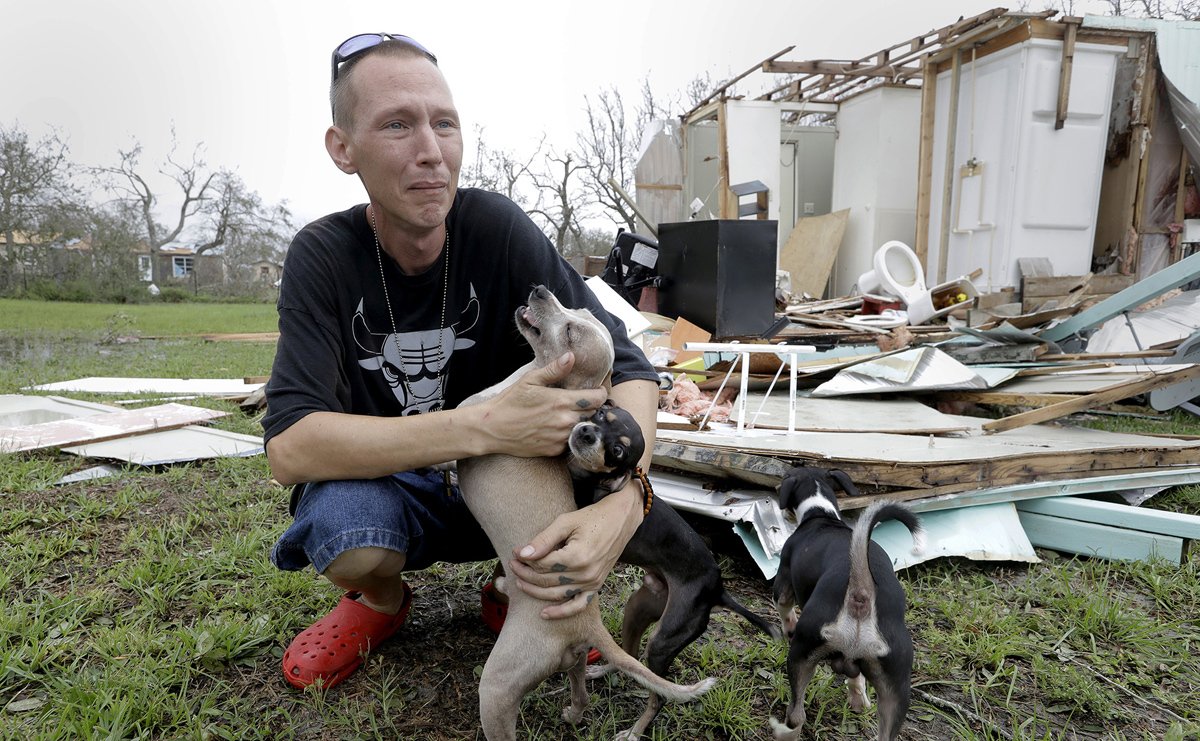 A young man named Andrew White, assisted a neighbor and her dog escape from the chaotic scene.
Good Samaritans do exist. We say that in this world we all have good people and bad people, but the good people are the majority.
Andrew was so kind that he carried the woman's dog, just because he wanted to get her and the pet back to safety. We need people like him, to save our nation from the troubleshooting problems.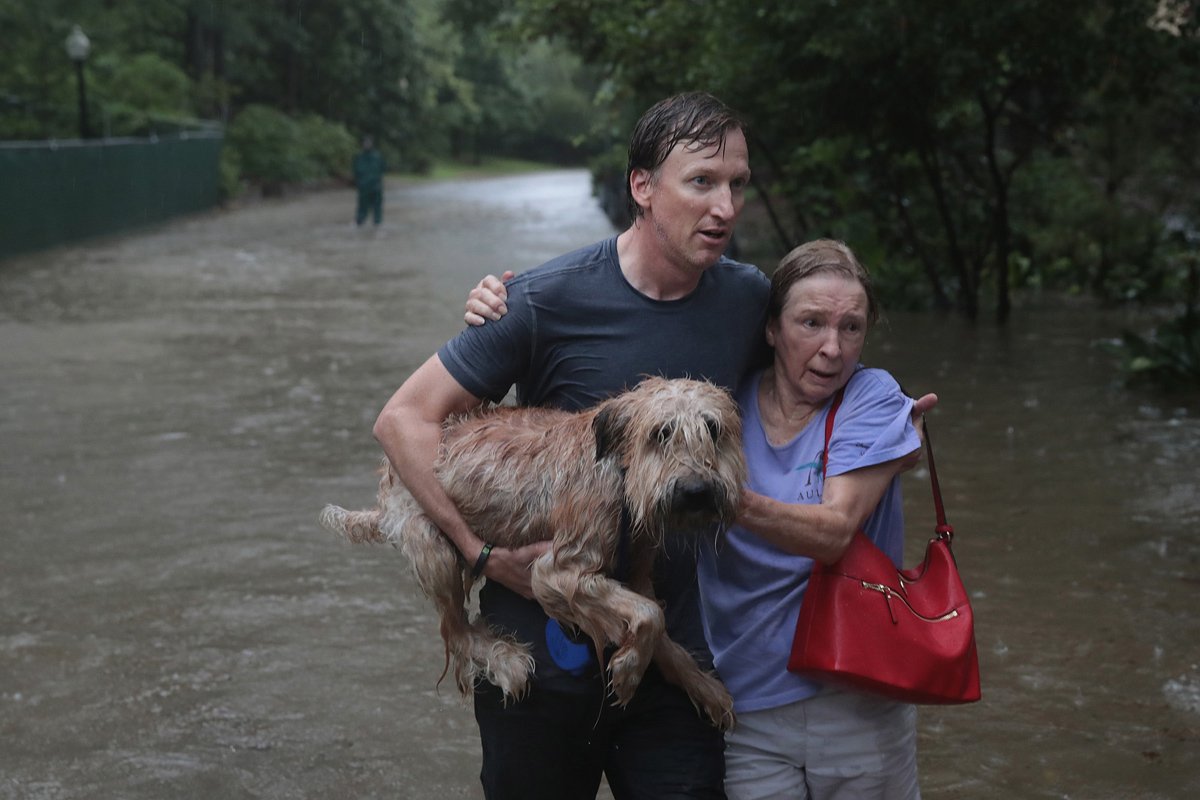 A woman had to stay afloat, waiting for the rescue team to get her and her dog. A helicopter could be seen from a far. I bet that it was the rescue team.
Tired was she that she had to rest on an air mattress, together with her poodle on the floodwaters.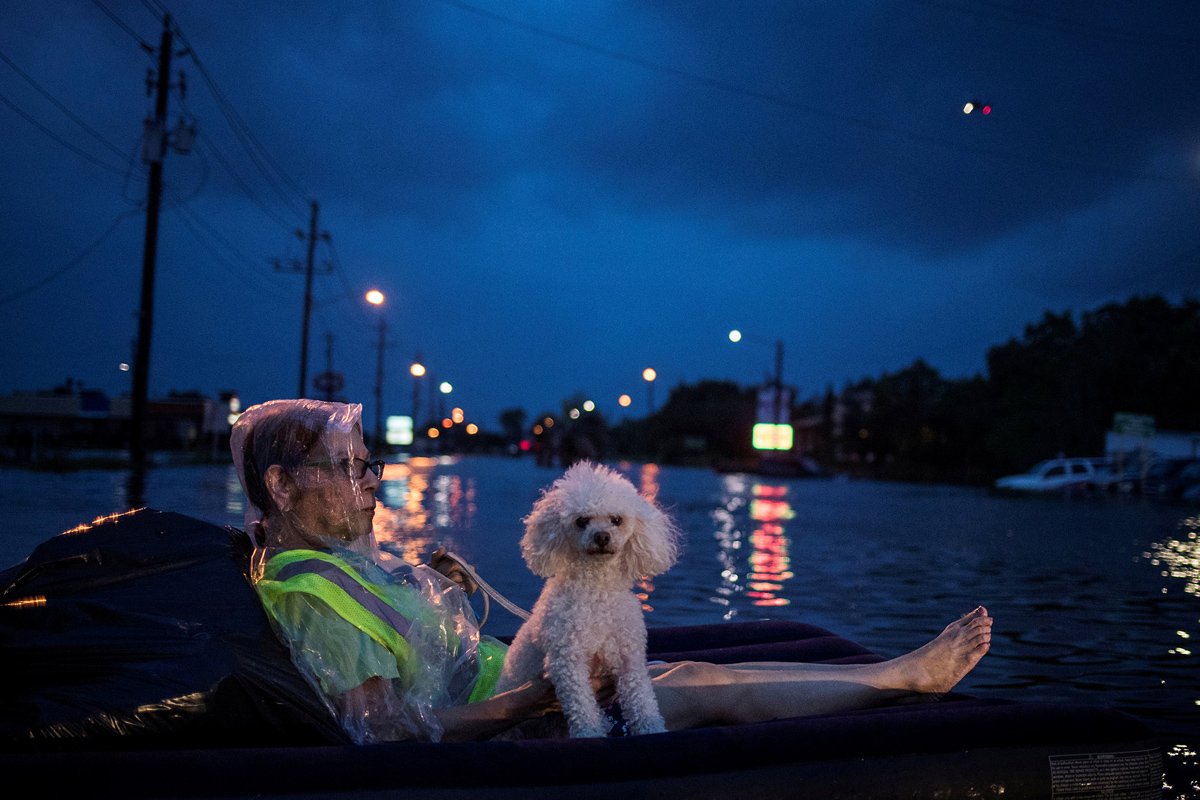 The rescue team came to save John, and Cathy Cservek, not forgetting their dogs.
John and Cathy were on a rescue boat, holding on their dogs, Lacy and Iggy. They were to be delivered safely on the higher grounds.
The rescue team deserves our all time support. Not many would do such a thing!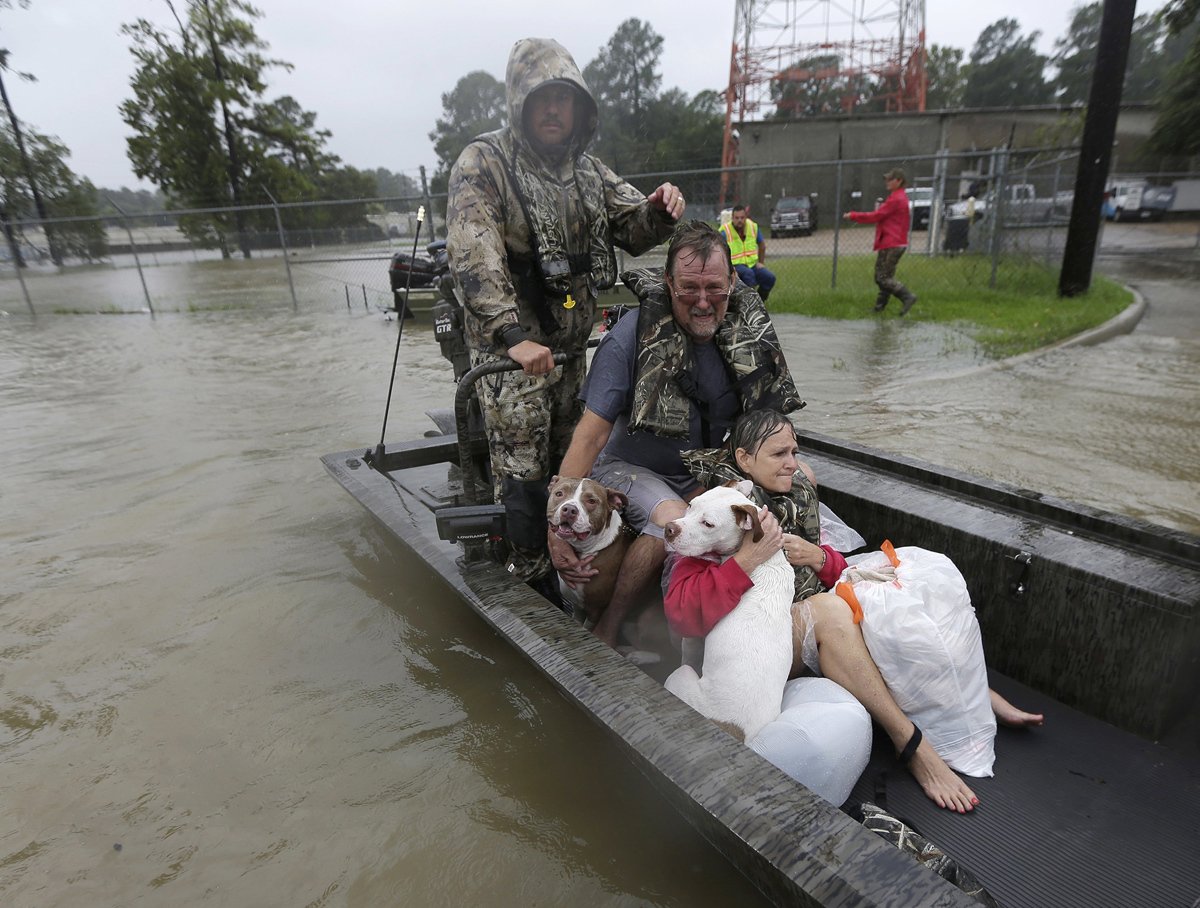 Saving pets was like the main motto during this outcome. Volunteers came out in numbers, and offered some assistance, in the struggles to bring the pets to a safer ground.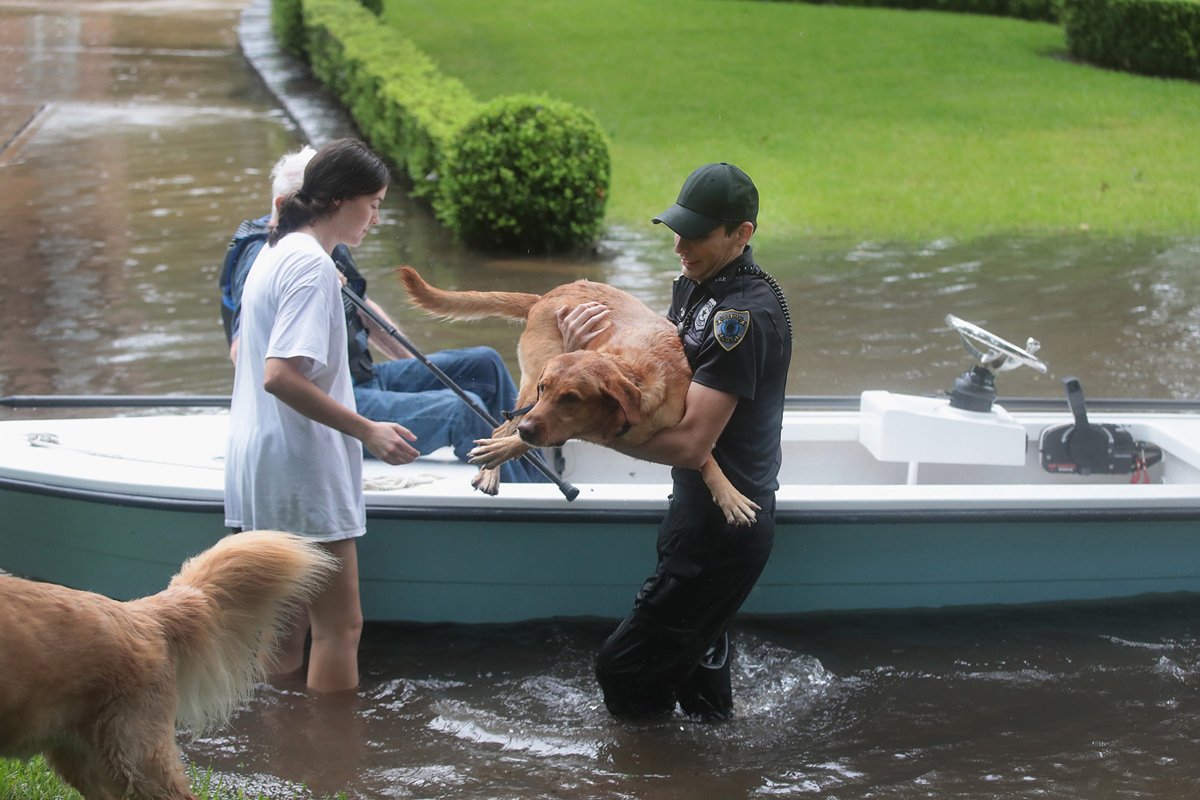 It was a matter of what your hands could grab and carry all the way. The devastated families were escaping from their devastated homes.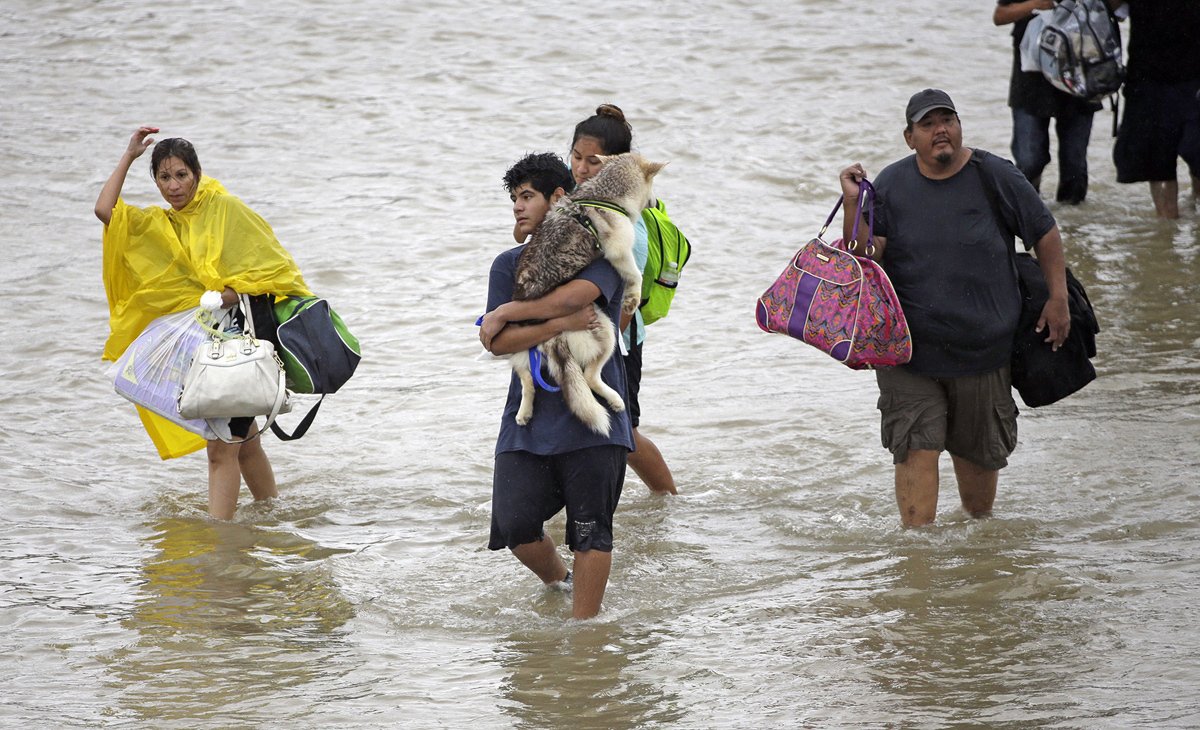 If you own a dog, you're most likely going to know which mood he/she is in, from just the looks of it.
The dog was captured in his stressed up state. The eyes were a clear indication of what he was going through, but luckily they were in a safe place.
Soaking wet, but having each other, was all that this man ever wanted. 
Even though they were soaked to the bone, his best friend was all that he cared about and he was grateful.
This tragedy just shared an important lesson with us. No matter what comes in our way, never abandon who you love. Whether family, friends, pets, always have them by your side.
Save our nation!
"Don't forget to LIKE US on Facebook!"
Please SHARE this with your friends and family.
---

Share this story with your friends and family!
---